Well, now that it's all behind us, I hope everyone had a good, safe, and fun 2014 turkey season...I know I sure did! It was a challenge at times, and those hainted gobblers that we love to hate were acting funny and gobbling less everywhere I went, but I had more than enough highlights to keep me looking ahead and anxious for next year. I think everyone here shares those feelings! A short apology is in order though; I didn't take nearly enough pictures other than "kill shots" for this "photomentary," and I think it suffers because of that. But, it's always fun to post my pictures on the web and see it all in linear form, and I hope you agree.
As per normal, we started off in the Sunshine State, where I guide on some real decent private property and hunt on some highly pressured public land. A couple weeks prior to the season, three of my scheduled guys cancelled on me, so I was in "panic mode" before I ever arrived in Lakeland. I was able to scramble around and fill a couple of those spots, so everything ended up ok, but I have to tell ya, those guys who cancelled really blew it, because we were into gobblers down there from Day 1! Everybody I guided had their birds in minimal time afield, and first off was Asif Majid, from Canada. We had a great time hunting together! His gobbler hobbled into the field an hour after daylight, fuzzed all up, and hobbled towards us. I have never seen a turkey limp so badly, but he never broke strut until Asif ended his day at 20 yards. Being a Muslim, Asif had to first "bleed" the bird and say a prayer over him so it was fit to eat, and then we went back to camp and celebrated with my Florida "family." Later, we all decided to drive to town and eat at a local spot that supposedly served fine tablefare, and by the time it was all said and done, there were 5 vehicles following us to town. Not really knowing where this restaurant was located, Asif used his smart phone to plug in the address, and then directed me as we wound our way through downtown Lakeland. Halfway there I realized (and was thoroughly amused by) the irony of the fact that here were a bunch of camo-clad, redneck turkey hunters from all parts of the country, following a Pakistani Muslim from Ontario, Canada in a quest for the best chicken gizzards and BBQ pork in town (Asif had the fish).
Here's Asif and his bird, who's right leg was broken, healed, and frozen stiff from the knee on down, and emaciated to only half the size of the other one: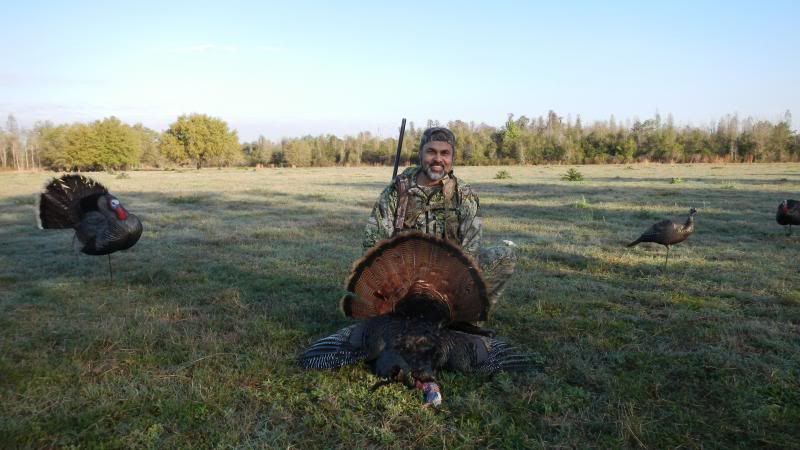 Next up were a pair of fellows who were originally scheduled for 2015, but who jumped at the chance to fill in the gaping hole in my 2014 itinerary. Charlie Southworth had hunted with me previously, and that hunt had successfully ended before we'd hardly gotten to know each other. That's how it goes some (most) times. Now, he brought his buddy David Rogers along, and we hunted that first afternoon without making a kill, although we had 4 toms gobbling their brains out for a couple hours. Unfortunately, they wouldn't leave the neighbor's property with its corn feeder and 9 nearby hens...can you imagine?! The next day was more of the same until we moved to a different property across the highway, and about 3:30 in the afternoon we saw a huge gobbler strutting towards us without gobbling. He came to about 50 yards and hung up for some reason, but then I saw why....2 more gobblers suddenly started chasing him back the way he'd come. I cut hard on a glass call and they slammed on the brakes, turned on a dime, and hustled towards my DSD flock of 2 strutters, 2 jakes, 5 upright hens, 3 feeding hens, 2 laying-down hens, and a "leading" hen (no, they aren't all mine, but when me and my buddies throw them all in together, you oughta see how they look....AND the results they get!!!!!). Picking out a jake to beat up, the gobblers half-fuzzed up and advanced rapidly, only to be smote down by David and Charlie nearly simultaneously....SWEET DOUBLE!!! Here's David on the left, Charlie on the right, and some of the flock scattered behind them):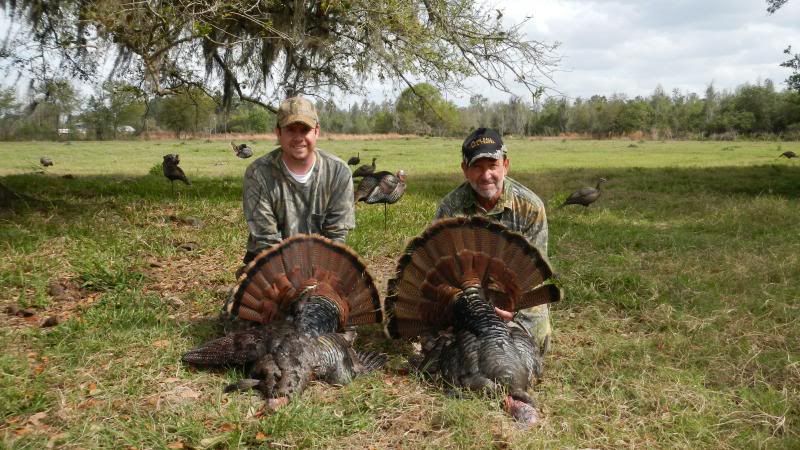 My final client was Robert Lee, and we went back to the other side of the highway for our hunt. We heard a little gobbling at dawn, and shortly thereafter we saw 3 hens and a gobbler slowly working towards us. The hens wanted to go on a direct line past us at 50 yards on their way to the neighbors' feeder 250 yards away, but the tom just couldn't resist making a detour and aggressively charging up to my DSD strutter. Shame on him.....
It was then my time to hunt on public land, and on my second day I had a classic encounter with one of its evil, hainted Osceola toms. He gobbled quite a bit for one of his kind in the roost, but then sailed past me at flydown and soundlessly snuck back in to my muted, contented calling. It was a great hunt, and here's his picture: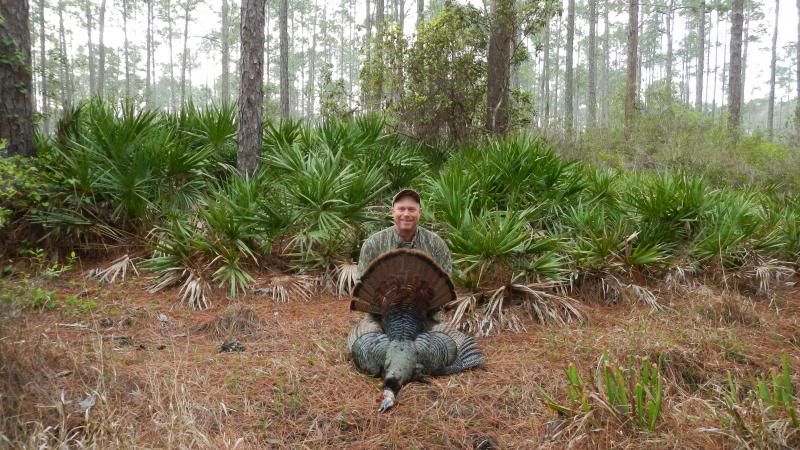 I'd put in for some limited quota hunts this year at other properties just for fun, and was drawn for a 3-day hunt at a place I'd never seen before. The first day I found a gobbling tom at 13 minutes before 1 o'clock (public land hunters must quit at 1), so the next day I am the first guy through the gate, but when I reach my area, there's someone camping (illegal)
right there
! I wasn't sure what to do, but I knew he wasn't supposed to be there, so I stood around awaiting a gobble back in the swamp. The only decent way into the swamp was a narrow path 30 yards from his tent, so about 8 a.m. I walked on by him eating breakfast and said, "good morning" as I passed, but he never even looked up or acknowledged me. What an ass. Another 125 yards down the path (sort of an elevated "causeway" through the deep, wet swamp) was where the tom had gobbled yesterday, so I quickly built a cabbage frond blind to await the tom showing up. I didn't have long to wait, since he gobbled 175 yards back in the swamp as I was sitting down. He answered my first and only call, and gobbled several more times as he drew near, then I could hear the rhythmic "sploosh, sploosh, sploosh" as he walked in the water before stepping up on my causeway. I shot him as he stuck his neck out parallel to the ground to gobble in full strut, and this tom was one of only a handful of turkeys I've killed over the years who never so much as quivered after being shot. Stone-cold dead as a doorknob. The shot must've got the attention of the illegal camper too, because he was packed up and GONE by the time I took pictures and walked back out. You can see my cabbage palm hide over my left shoulder in the picture: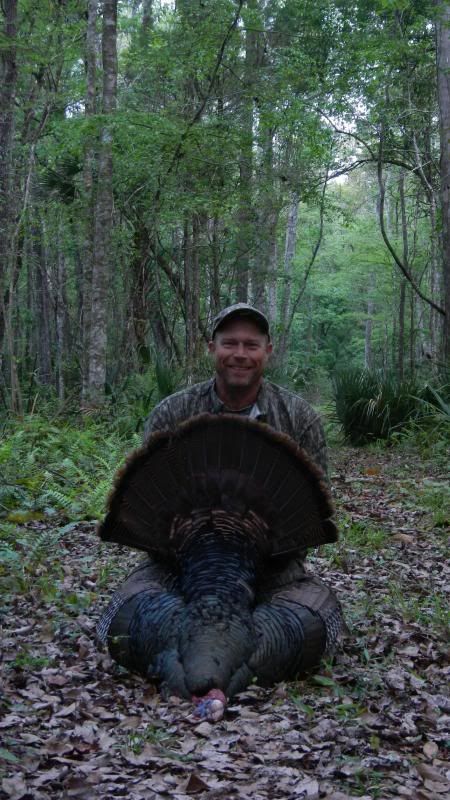 One of my good friends (Doug Pickle) then came back with me to this area for the final day's hunt. We'd scouted the day before and found huge tracks in an isolated section of the property, then heard 2 separate birds gobbling to our owl hoots as we drove out, so we had options for the following day. We both thought our best bet was the area with all the tracks and strut marks in the sandy road, but at dawn we heard exactly zero gobbling. Not wanting to waste any more time on "potential as opposed to certainty," we then hiked out the 1.25 miles, hopped in the truck, and quickly drove 2.5 miles to the first of our roost-gobbling birds. He'd sounded waaaaaay back in the swamp the previous night, and sure enough, we soon heard him gobble after parking the truck. Hot-footing it down another elevated old tramway, we hadn't gone far before the tom sounded MUCH closer. I guess that swamp was soaking up all the sound and making him appear much further than he was in reality. Anyhoo, we quickly set up but it's a terrible mess....THICK swamp, DEEP water, NO openings...just terrible! But, it was all we had and the tom ripped into any call I made on the Cane Creek Glass. He was on us in no time, and I swear that bird strutted across water that must've been 3 feet deep! I don't know how he did it, and I'm not sure I want to know, but there wasn't any dry ground or places for him TO strut, and we both saw him doing it. Doug made the shot count, then fell in the water up to his neck 3 times AFTER making the retrieve....that boy would make a helluva Labrador Retriever, if he had a nose on him!!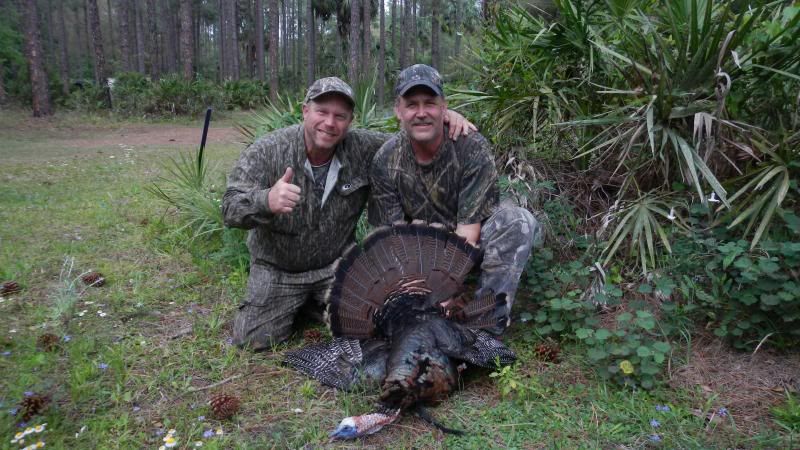 Then came easily one of my favorite hunts in all my career. I know that I've mentioned David Caudill on here before. He is 85, the "patriarch" of my Florida family, and one of the most talented and distinguished turkey hunters I've ever known. I don't think it's an exaggeration to say that he's a hero to me. David had drawn a "Special Opportunity" hunt this year. These are offered by the state of Florida as a way to bring in additional money, and they are hunts with limited access and lower hunter densities than those found on regular WMA's. They can be pretty good, too! Well, we didn't hear a bird the first day, but after shooting hours were over we drove around and found lots of gobbler tracks in a particular spot, so we moved our blind and hunted there the next day. We managed to call a gobbler up to about 50 yards too, but he seemed reluctant to leave the edge of a large cypress pond/strand and approach our setup on the pine ridge along the road. After the hunt I again moved our setup to where the tom had been standing, and from there I could see exactly why he had been where he was....the cypress strand was beautiful, open, and covered in lush green pinkroot shoots (and turkey tracks!). The next day was cold (38 degrees), so we put a heater in the blind and I even brought a blanket and fleece jacket/hat to keep David warm. The previous day he'd also had terrible trouble with his hearing aid, and had only been able to hear the tom gobble once or twice when very close. Today he'd put in an old model, and suddenly he could hear nearly everything I could! Owls hooting, crows cawing, treefrogs and songbirds chirping....and hens yelping...David heard hens yelping!!! Then, a gobble! Straight in front, across the dry cypress pond, I then hear drumming....and so does David!!! Then, there he was in all his glory....a magnificent Osceola gobbler strutting for all he was worth. He came in slowly until he was 70 yards, and at that point he saw the strutter and the fight was on. David shot him at 20 yards. There was so much good about this hunt, but the best was that David saw it all, heard it all, and shared it with me!! Here's my hero and his bird:
Well, Florida had been a hoot, and it had been great hunting, so I was anticipating the rest of the year going as smoothly and successfully as that. Then, I went to Georgia. It was everything FL hadn't been, even though I chose a WMA near Macon that had a good reputation and a high kill tally from previous years. Oh, I heard birds gobble, but they were usually off-property or so far away I couldn't reach them quickly, and once they got their hens around them after flydown, you wouldn't hear another gobble all day long. It was TOUGH, but then I killed a tremendous tom on a great afternoon hunt, then 5 days later I did the same thing. Here are my first 2 GA birds of 2014: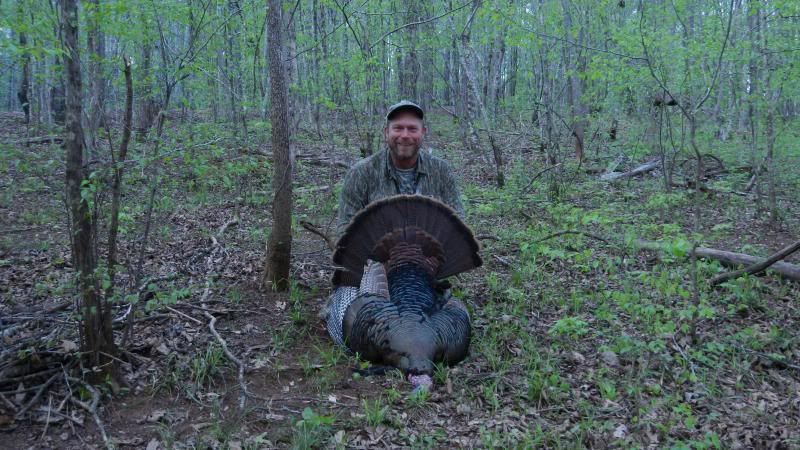 At that point I'd decided to hunt one more morning, then head on up to the mountains of GA to finish up my 3-bird limit. It was starting to get hot that far south, and buggy, and if I could quickly shoot a mountain tom, I could easily hop over to hunt NC and TN on my way home. I needed to be there by the 23rd of April for guiding commitments, but it was only April 13th....plenty of time, right? Ha!! The next morning I called in a tom straight out of the roost, but then I made a grievous and uncharacteristic error by letting the tom see me make my final barrel adjustment when he was strutting at 30 yards. The tom boogered out of there like I'd hit him with an electric cattle prod, and this left me thinking, "I sure hope that doesn't come back to haunt me."
Well, it did. For the next 9 days the mountains smacked my arse. I couldn't seem to do anything right, and the turkeys didn't help, either. They were acting just like their southern cousins by gobbling sporadically at dawn, then hushing all day. The only thing I had to show for my trip were these American Chestnuts that I found way back in a hidden cove of the mountains one day:
But, I left for home thinking that maybe if everything went incredibly well, I might still slip back down to fill that last tag. I don't like to leave a state without getting my money's worth, and especially a state that costs so much to hunt! Heck, the leaves weren't even out yet, so perhaps the birds might be more "normal" in a couple weeks. GA would remain open till May 15th, so maybe, just maybe......
Guiding my cousin's son (Tyson Torrence) in Indiana, I called in several birds up a steep hill. The first one that presented a shot was a jake, but at 12 years old, Tyson wasn't grading them yet, and we were both thrilled with his first kill. We also got a good laugh when my 12 gauge Benelli M2 knocked Tyson to the ground like he'd been bowled over by a George Forman straight right!
Then, we intercepted another of the toms on the way back to the house, and I was able to shoot my own Indiana bird. Here's Tyson and I: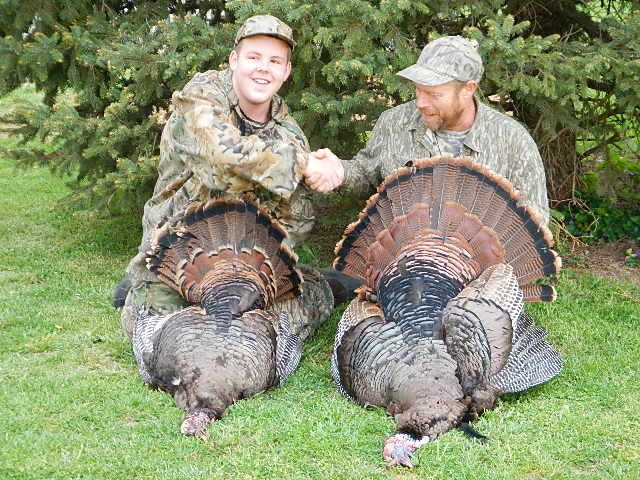 I had a couple southern Illinois tags in my pocket, so I then drove over there to an old familiar spot. On Day 2 I shot a tom right after flydown, so I hung him in tree and made a long, circuitous route over ground that is normally full of turkeys. Not today, though. Returning to the kill site, I took a few pictures, then set up amid two acres of fresh scratchings and called a while. It was now very windy, but at one point I'd thought I heard the "chump" of a turkey going into strut several times. Twenty minutes later I cut hard on a call and a tom gobbles CLOSE, and in only a couple minutes, I had 2 longbeards strutting in front of my gun. Here are my 2 toms, shot from the same spot, 4 hours apart: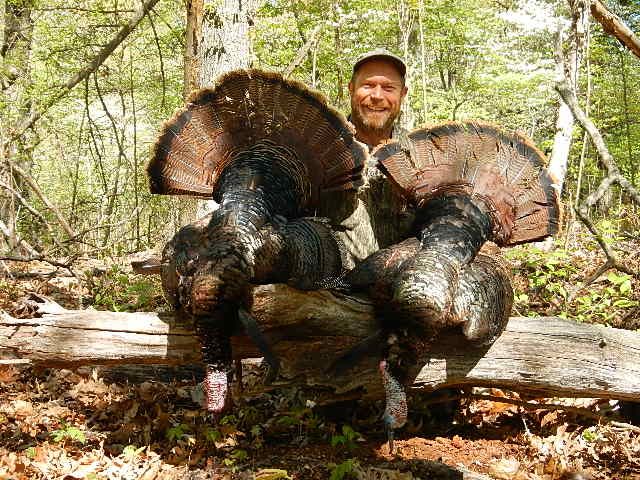 Back to Illinois, I'm guiding an old friend (Gary Shepherd) and a new one (Louie Vennard) on Louie's farm. Gary has killed many toms with me, but Louie has never killed one at all, so he's to be shooter #1. On Day 1 we did no good, but a river-fisherman friend of Louie's told him he'd been seeing 4 or 5 huge gobblers walking the levee along the Wabash River every day at 10 a.m., so after we did no good early of Day 2, we drove over and I set up the pop-up blind right atop the levee, and stuck a couple DSD's 20 yards further down the levee. At 9:45 a big tom stepped up on the levee 150 yards from us, sees the dekes, and here he comes all fuzzin' n' buzzin'. At 100 yards I'm getting Louie's seat arranged for the right angle to make the shot, and at 75 yards we are all 3 telling ourselves, "this is gonna happen!" Then, all of a sudden the blind rises up over our heads and is gone. Louie and I are quite suddenly naked and exposed atop that levee, and staring straight at a very surprised gobbler. He didn't stay long, and it didn't take us long either to figure out what had happened, for there at the bottom of the levee lies my wadded up Double Bull blind, with Gary tangled up in the middle of it! He had somehow lost his balance and tumbled into the side of the blind, then rolled down the levee!!! Louie and I can't stop laughing, Gary is hung-dogged ashamed and embarrassed, and the turkey was simply gone, but after I got everything rearranged we worked several more turkeys across the river for an hour. I thought they might fly over to us, but the fisherman drove by in his boat and they backed away. I swear, that is the funniest thing I've ever seen in the turkey woods, and it just gets funnier every day!
The next day Louie had to quit early and do some farming chores, so Gary and I went back at 9. It was so windy that day! I had to literally stake the blind down and then sit on its edge to keep it from doing the same thing (but for a different and more "natural" reason) that it had the day before! About 9:15 I saw a bird fly across the river 200 yards downstream, but at the time I only thought it "could've" been a turkey. Maybe it was a cormorant or something, but my initial, brief impression was, "turkey." Then, nearly an hour later as I'm literally lying against one side of the blind while holding out my arms to brace it against the wind, I swear I heard drumming! Again I heard it! Looking out 3 sides of the blind, I can see no turkeys and the only direction I can't see is towards the river, down over the levee...where Gary had rolled to the day before. I tell Gary there's a bird, "RIGHT HERE" with us, then hear drumming twice more. If I was hearing it over that gale force wind, the tom was obviously within 10 yards of us!!! Five minutes go by without anything else, but I just know that tom has seen the top of my strutter fan up over the levee top from where he's at, and it's only a matter of when, not if, that he pops up. And then, there he is. After taking a couple vicious swipes at my decoy, I tell Gary not to let him do that any more, and he hammers the tom from 19 yards. This brute weighed 25.5 pounds, had an 11 inch beard, and matching 1-3.8" spurs. Unfortunately, I completely forgot to take any pictures. The next day we called one in for Louie on a classic hunt elsewhere, and the following day I shot my 3rd Illinois tom after Gary and Louie both had to leave early. Had a great time with Louie and his wife Lynn, along with Gary and his wife Karen. Here's myself, Louie, and Gary in the first picture, and me with my "half-cocked" gobbler in the second: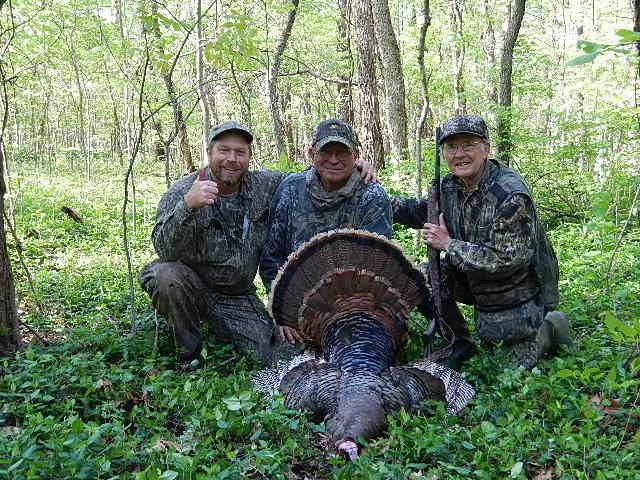 With all my obligations and expectations out of the way, I was now free for a GA return, so that's what I did. For a while it looked like the GA curse might still be upon me, but then I found a couple toms still willing to gobble and act like normal turkeys, and on my 5th day back down there I put it all together on a beautiful morning with low-hanging fog. Overall, it took me 29 days to kill 3 toms, but like I'd said earlier....I hate to leave a state without getting my money's worth, so all that time wandering around in her hill's 'n' hollers most certainly did that! Here's my final GA tom:
Next up was an annual reunion with some of my best friends in PA. Doug Pickle came up from VA, Craig Morton lives close by anyway, and Bill George owns a camp right there in Tionesta. We had a large time of it for 6 days, and all managed to kill birds, as well. Here are my two: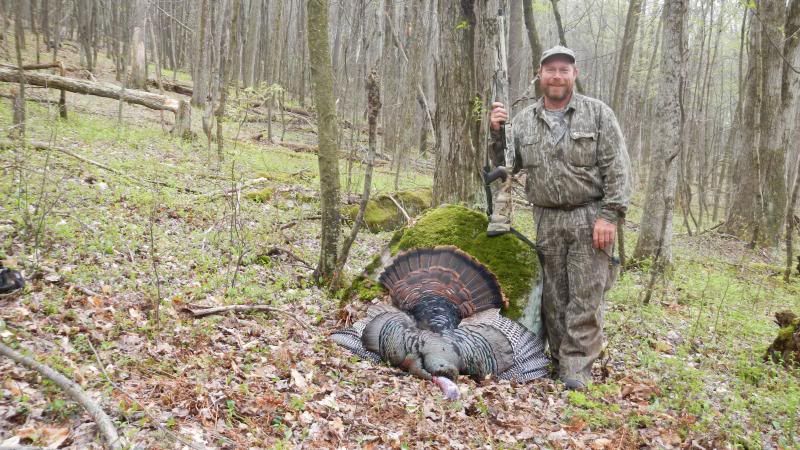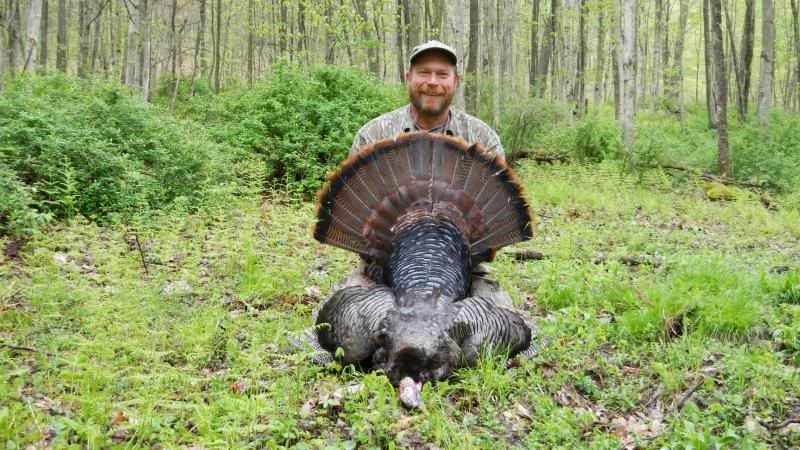 I then headed on up to Maine and before I ever hunted, I got my fill of the best fried clams imaginable at a little place called, "3 Bouys" in Kittery. Awesome good! Then I went hunting. Called in a couple jakes at one spot, but I was having a terrible time finding birds on WMA land I had hunted in the past, or any unposted land at all. Then, as I was driving around looking, I kept seeing signs around a place that said, "Access By Permission Only," and it gave a phone number. I get out of the van and am writing down the phone number when I heard a turkey gobble nearby, but since it's only 7 a.m. I think it's too early to call, so I sit there listening to the tom gobble his brains out. At 8 I make the call and the guy says, "sure you can hunt!" He was coming up to spray his apple trees and I wanted to meet him and personally thank him anyway, so I drove back to his gate. This is the view from there, except for one notable exception...the tom was standing just about in the middle of this picture when I drove up, and he merely walked off to the right and into the trees:
We stood around talking for a long time, then signed a "thank you" gift book for allowing me to hunt his land and we talked for a long time again, until the turkey gobbled. It was now about 10:30, so I said, "I suppose I oughta go kill that tom." Roger then left, I walked over to the corner of a field you can't see in that last picture, and within 15 minutes I shot this tom:
I then hunted around a couple more days, killing nothing but time as I awaited meeting up with a friend of Doug Pickle's (Les Peters). Les was a very interesting character, and we struck a bond immediately. He had a friend named Henrik who is a fishing guide and yet another interesting character (I think it goes without saying that most folks in ME share these traits!), and we also immediately became good friends. Les had been wanting to take me to an absolute honeyhole that Henrik had found, but when we finally get the chance, we heard not a single gobble. Les is amazed, as he'd heard no less than 8 or 10 the only other time it had been hunted, but it was a rainy day and not totally unexpected by me. We sat it out a good long while though, then tried a few other spots before coming back at noon-thirty. About 2 o'clock I called in a jake, then a few minutes later a barred owl lands 20 yards away and hoots...and a turkey gobbles. From that point in happened very quickly, but the gist is that we soon had 2 toms and 3 hens right there in our face, and here's Les and I with my 2nd Maine tom of 2014: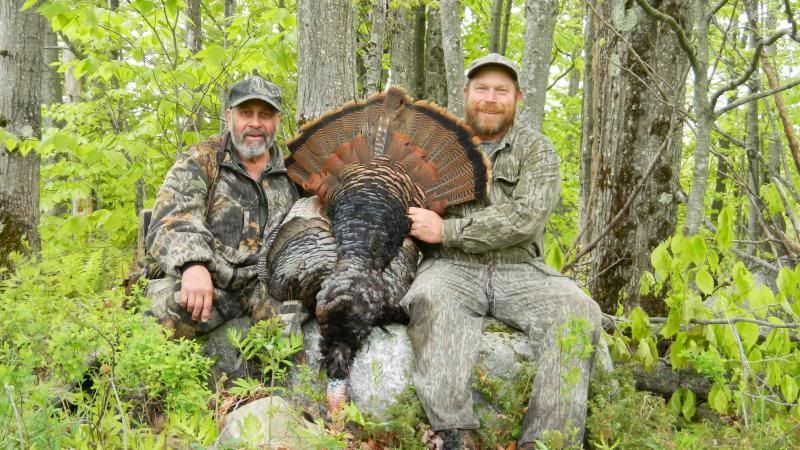 Finally, I traveled over to New Hampshire. This state is absolutely one of my favorites...beautiful beyond comprehension, welcoming to hunters, friendly citizens. I had a great time while there, but a combination of abysmal weather and difficult gobblers teamed up to keep me from finalizing the deal until May 30, when I shot this tom. His yackity hen flew over beside me and landed in another tree early, then really scolded me for opening my mouth. When I talked back again, she flew down and just about landed on my head, but saw me at the last moment and flared a bit, landing 30 yards behind me. This put me right smack dab in between her and the tom, and she really shouldn't have treated him like that....he didn't stand a chance at that point. Here he is in my final picture: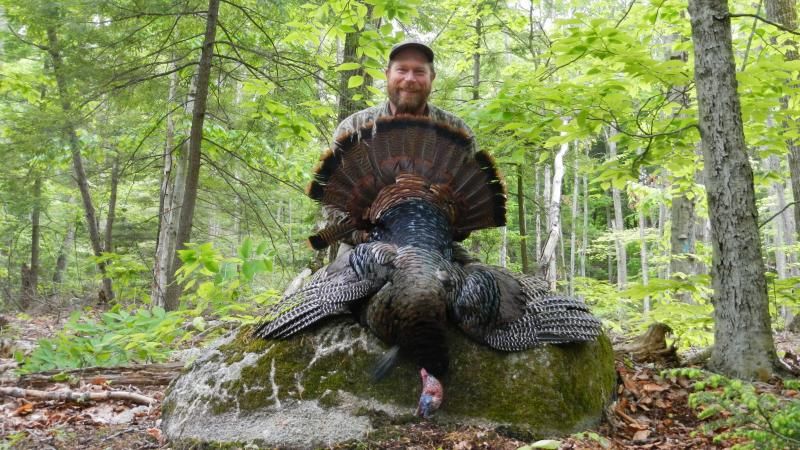 Well, that's the summary of how things went in 2014. It was a tough year for me overall, with much less gobbling than normal, and I noticed a strong proclivity for early gobbling followed by long hours of silence every place I hunted. This made for some long days of unexciting hunting, and in fact, of my 72 days afield, there were no less than 17 when I heard no gobbling at all for the entire day, plus a few others when the only gobbling heard was late in the morning or even deep into the afternoon. There were actually a few times when I thought to myself that I could be doing something else, but thankfully, such crazy thoughts didn't last long before I was right back into "turkey mode." Many of the toms we killed were absolute brutes, leading me to think there might just have been a shortage of 2-year-olds this spring (further reason for lack of gobbling).
Despite the difficulties, it was a glorious spring and I got to meet lots of interesting characters (both human, and turkey) along the way. I also sold and signed lots of books as I traveled around, and this further opened up lines of communication and friendships in state after state. I tell ya....I have had
so
much fun because of writing that book!
In short, I had a great time and got to experience all the wonderments of spring in 7 states....what more can a turkey hunter ask for?!