Well we sure went from winter to spring real quick here. 2 days ago it was 22 degrees, tomorrow we're supposed to hit 70. I'm excited about that, and the birds today were as well. Killed a 2 yr old right off the roost about 6:30 this morning.
I got out to the farm about half an hour before shooting time, and walked about 3/4 a mile back into the back pasture where I had seen a couple birds on Wednesday. It was pretty windy this morning making it a bit difficult to hear, but warm, mid 40's so i wasn't complaining. I heard the first gobble about 10 to 6, and he was behind me a ways along the path I had taken to get into the back pasture, I must have walked within 100 yards of him in the dark. After 10 minutes I couldn't hear any other birds gobbling, so back I went towards the only game in town.
By this time I could hear hens and jakes yelping as well, but still only the one bird gobbling. The birds were roosted on a bench on the ridge side that was just off the edge of the property. However, a finger point ran out from the middle of the bench onto the land I could hunt. I moved to the bottom of the point and climbed half way up the side of the ridge. At this point the birds were about 150 yards away, and because the trees haven't even begun to bud yet I waited for them to fly down so they wouldn't see me as I moved up to the crest of the ridge.
After they hit the ground I moved up to the crest of the point and found a nice tree about 10 yards from the edge. I could hear the birds about 100 yards away. I figured they would come right out to the tip of the point to me. I let out a series of yelps on a mouth call and got no response. I waited about the seconds and yelped again, cut, and yelped even more urgently. He hammered at the second series of yelps, and a couple hens started yakking back at me as well. I cut right back at the hens, and followed with another series of yelps. He gobbled again a bit closer than before so I settled in and got ready. I called every 15-20 seconds for the next couple minutes as the hens were pretty worked up and I wanted to keep them that way. The birds worked their way into about 50 yards out straight in front of me, but I could not see them yet do to trees and pieces of deadfall.
At this point I changed over to softer, but still excited cutting and clucking, along with some scratching in the leaves. I realized that the birds were no longer coming straight out the finger of the point to me, but had slid off the side and were working their way around the side. They made their way past me and he gobbled at my 5 o'clock, so i quietly turned around and leaned against the side of my tree. I made a couple soft excited clucks, scratched the leaves and went quiet.
I could hear birds scratching in front of me so I had my gun pointed in that direction when I heard footsteps at my 10 o'clock just below the crest of the ridge. I was contemplating shifting my gun over when out of the corner of my eye a black blob steps up from below the crest. I slowly turn my head ever so slightly and freeze. He's standing there 10 yards away looking around, and my gun is pointed 45 degrees in the wrong direction. I can see he's getting nervous, and I'm getting ready to stand and shoot when he slips back below the crest, when he makes a mistake. He flips his wings and starts to walk off across my front instead of back down the hill. As soon as his head is behind a tree I shift my gun over to cover him as he emerges.
He must have seen or heard something because he emerges walking fast and bobbing his head, but I don't give him a chance to do anything about it. He was still about 10 yards away when I fired, and the pattern just about took his head off. 3 or 4 other birds flushed off the hillside at the shot. He was a pretty typical 2 year old and a great off the roost hunt. 10" beard, probably 3/4" spurs. As a side note, the first double bearded bird I've ever killed. I was happy. Packed him up and headed home.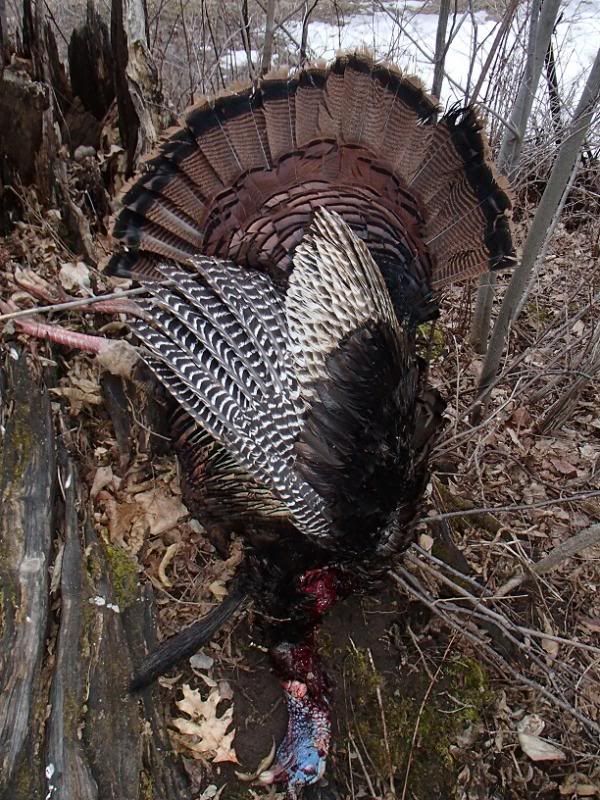 At least I kept the pellets out of the meat