I went out last Saturday with a buddy to a place he'd located some turkeys earlier in the week.
We arrived at the first spot right as the turkeys were flying down, and boy, they were everywhere. They had roosted in small batches spread out over a creek bottom and we counted at least 20, but couldn't be sure. We heard plenty of yelping and kee-keeing and clucking and carrying on as they were trying to join up together.
They all got together before we could get into good position, and so we tried to swing around and call the whole bunch up intact. We had a couple of them come up like they often do in the fall and stay just out of sight/range and try to cluck you over to them, but then hurried off and disappeared without us getting a bead on one.
So, we tried to reposition for a possible bust, but had trouble relocating them. And then here came the dogs from the neighboring property running deer, and messed up our strategy. With that bunch of turkeys stirred up and seeking refuge from the dogs in trees, we decided to leave the area and let things settle down.
At spot #2, we split up to go different ways, and I quickly ran into a few turkeys in the trees. One, two, then three turkeys came out of the trees, so I decided thoroughly prospect the area for a bit. Once again I heard a dog -- this one was somebody's yard dog out having fun chasing stuff. After about 30 mnutes of slowly working the area, I had one answer me, and soon was headed my way. I sat down for some action, but once again, the bird (a mature hen) came up to just out of sight/range, and tried to cluck me to her. And once again, I couldn't close the deal. I had my safety off and caught a glimpse of her wing speculum as she made a couple quick back and forth short swings about 30 yds away and was wishing those woods weren't quite so thick. But she disappeared and couldn't get any more action in that spot. In the meantime my buddy didn't find any birds.
So, off to spot number three where we saw two gobblers on the edge of the woods. We hurried to try to get into position from the other side of the woods, and set up and tried to work them in for an hour and a half or so. But they didn't come, and we didn't see them again. So we prospected the area a bit more but came up empty, other than yet another turkey in the trees.
By now it was mid afternoon so we decided to go back to the first place we'd found the turkeys first thing in the morning. We split up and worked opposite sides fo the creek knowing we had deer dog-scattered turkeys from this morning in the area.
After about 45 minutes of slowly working, I had one answer me. So I sat down in a decent spot and had her coming my way. I was right below a ridge about 40 yds to my left with the bottom sloping to my right. And I had the sun directly to my back. I thought I was in good shape. It sounded like she was coming right down on my side of the the ridge straight to me. I just knew I had a turkey in the bag. And right about the time I figured she should about be in range, I heard some rustling in the leaves behind some little hollies, down a little to the right of where I had my gun pointing.
So, I slowly swung my gun over there, and then all heck broke lose directly behind me. I heard wings and putting and flapping and cackling and branches being hit by turkey wings and all sort of obscene racket. And that blew my mind. But then I realized that there was still a turkey putting and purring at me back there. So apparently there had been more than one turkey, and instead of coming straight to me, they had swung just over the ridge as they approached and then came up directly behind me with the sun to their backs. Well, since this little gig was now up, I had to decide quickly what to do now. So, I thought maybe the turkey that was still there never actually saw me, and I slowly rolled over to my left side straining my eyes against the sun to try to see it. Well, when I did that, the turkey saw me first, but made the mistake of pausing to get a better look at me as she was running off.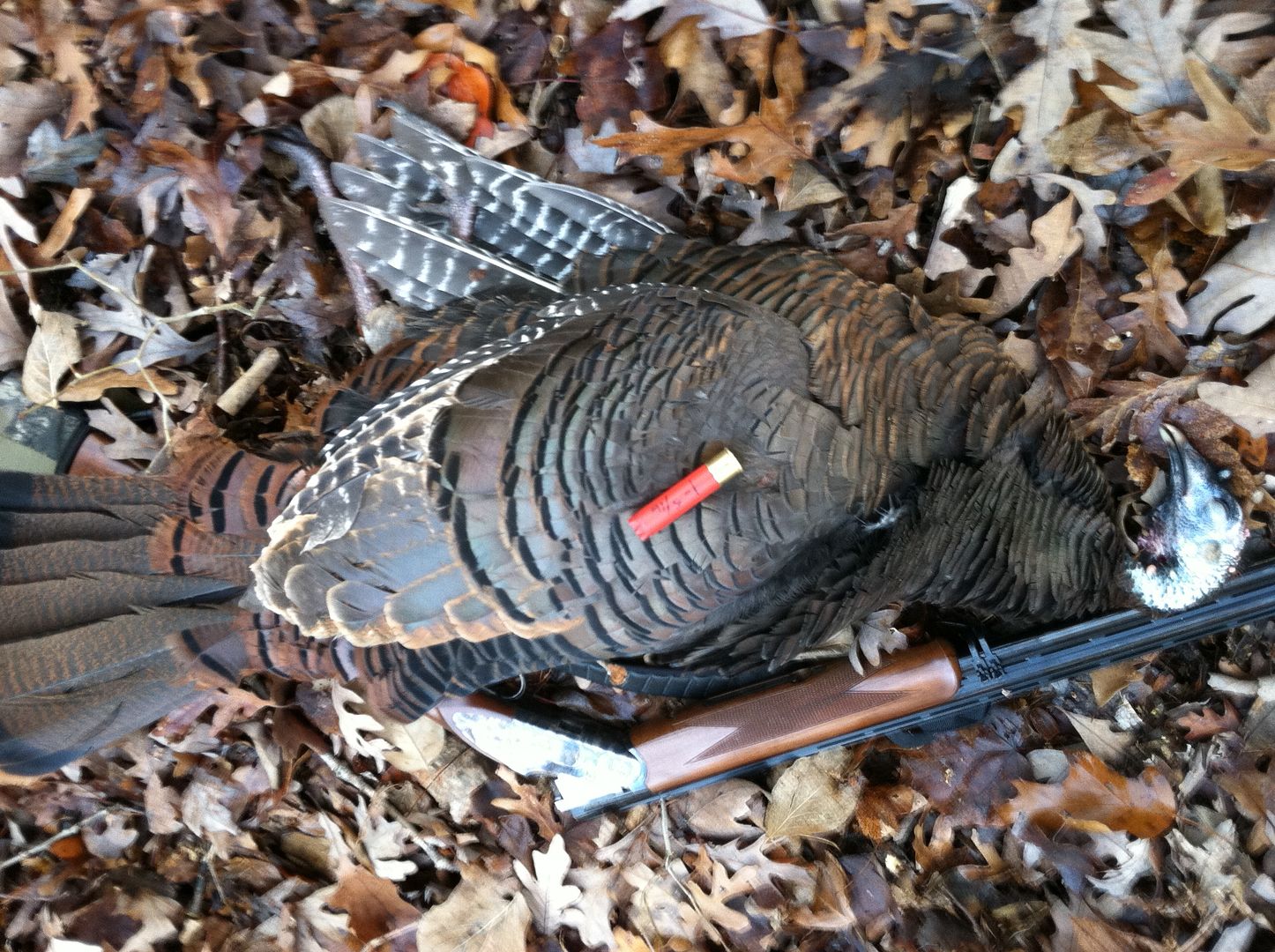 I was toting my 28 gauge CZ again, and stepped the bird off (twice) at 44 yds. She never flopped once. Never even quivered. That's two out of 4 birds I've killed in the last 12 months with that gun and load (1-5/16 oz TSS 9s, 1000 fps) that have done that.
And as I was tagging the bird and starting to make my way out, I heard my buddy shoot back over his side of the bottom a few hundred yards away.
With no tags left, it was a fun way to end the fall season this year.
Can't wait till spring....