Well, I've finally returned to the "real" world after nearly 3 months of turkey hunting, and I know y'all know what I mean when I say that I liked it
FAR
-better when all I had to do every day was wake up and go listen for gobbles! I squeezed out 59 days of hunting from March 17 to May 31, and hit 9 different states along the way, but both of these figures are a little lower than I'd originally intended, due to uncooperative toms keeping me from moving on to the next destination as soon as I would have liked. I even had to eat a pair of unfilled extra tags in a couple states, and once again affirmed that they don't taste nearly as good as fried turkey breast!
Overall, I'd rate the 2012 season as a fairly tough one, and it took lots of hard work to put any meat in the cooler. I suppose most of that can be explained by the warmest spring in recorded history, which seemingly threw every tom in the nation off of their rhythms, and once I left Florida I heard VERY little gobbling at all after the first hour of daylight. This silent-treatment continued to be the norm no matter what part of the country I was in, and it made for lots of non-action throughout most days. In fact, for the first time ever, we killed ZERO toms in the afternoon, and I couldn't even
buy
a gobble from the roost in the evening! While the last 3 weeks of May are usually my favorite time to be turkey hunting due to the number of lonely toms tearing the woods apart looking for hens, that wasn't the case this year, either...things just never got "right," and it was a struggle 'till the very end.
Despite these difficulties, I did manage to experience enough magical moments along the way to put together this little pictorial of my travels, and I hope y'all enjoy it.
As usual, I started in Florida and had 4 paying clients lined up on some good private ground. Things couldn't have gone any smoother at the sod farm, and within 3 days (and less than 5 hours of total hunting time), all 4 fellas had their first Osceola toms in-hand. Here are their pics: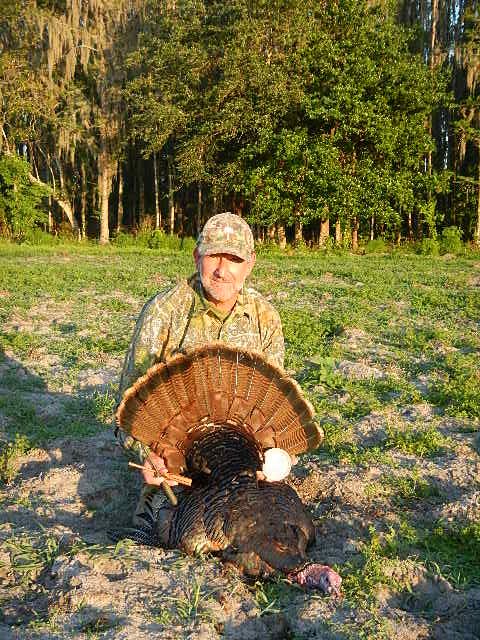 Then, things got a little shaky for me personally when I moved to public ground for my own hunting. On the first day I boogered a tom, then proceeded to miss birds the next 2 days in a row! I can't explain such uncharacteristic ineptitude, other than to say, "shappo happo," but it put me in a terrible funk, to say the least! However, I made amends the following day with this tom, then killed my 2nd a few days later.
This picture is of my good friend and amazing turkey hunter/callmaker Charlie Parish, with a dandy tom sporting 1- 3/8" spurs. Charlie gets it done on those old Swamp Gobblers!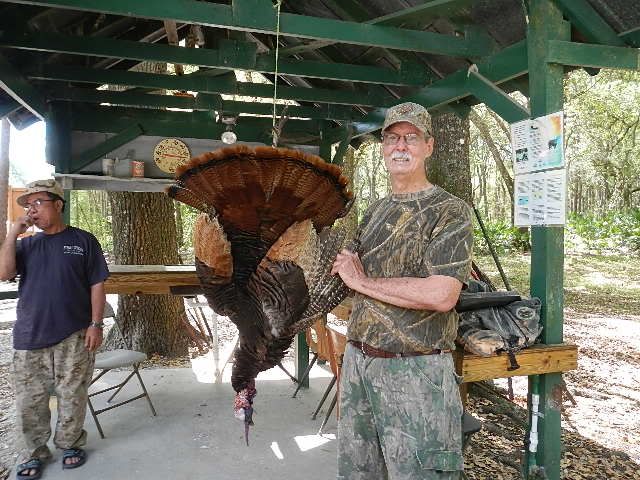 Then, I guided the daughter of a good friend on a limited-entry quota hunt, and she shot this fine bird to go along with winning our annual golf tournament (y'all ought to see Belinda hit a golf ball...amazing...watch out LPGA in a few years!!).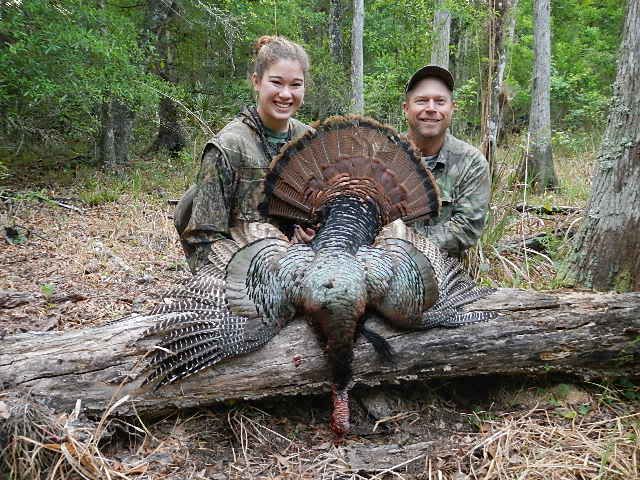 It was very dry in FL this year, so if you found any water at all, you found gators. On the way down to see what kinda dinosaurs were lurking in a deep hole of the river, we ran into this guy.
Then we found the gator-hole. You can't see 'em all in this pic, but there are
at least
18
BIG
gators visible in this little wet spot. We didn't go looking for more in the bushes, or go for a nice, cool dip in the lake, despite the heat!
Here's a little gator, with a big frog. It's eat, or get ate in the jungle!
This is just a part of my Florida "family." Some of these folks are local, and others are like me and have been coming down to hunt Osceolas for many years. We have big fun at our annual camp, and I wouldn't dream of missing it come springtime! From the left; me, my hero David Caudill (standing and 83 years young...killed a tom this year, too), Bill George (kneeling), my girlfriend Jen, Charlie Parrish's wife Cathy, Kenny Dorman, Marie Caudill (an amazing woman and turkey hunter, herownself), and legendary turkey-man Craig Morton. Belinda George is in front, with her tom.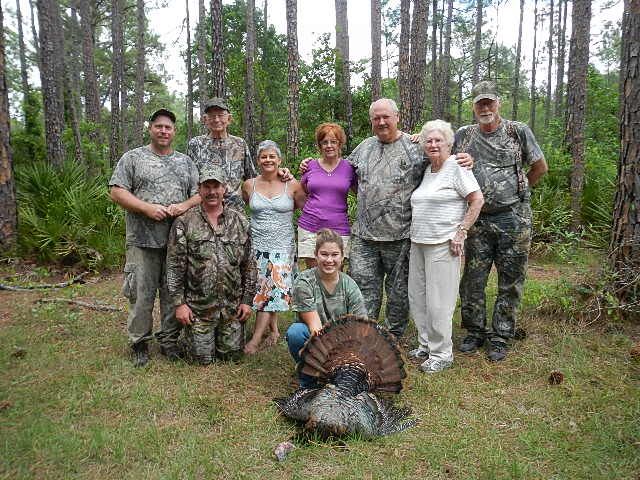 After calling in 26 gobblers to less than 40 yards in 17 days of hunting/guiding, Jen and I reluctantly left Florida and traveled to Louisiana. When I shot this tom on the first day there, I had high hopes of finally having a good hunt in one of the states that most gives me fits. Oh, I love it there, but nothing ever comes easy in the land of The Big Easy. Well, the next 8 days proceeded to spiral downward and away from me, and by the end of it all I had to pack up and leave with a tag still burning a hole in my wallet. I never even heard a gobble the last 4 days, despite hunting in places where I'd been hearing 4-6 in each of the first 4 days of the trip. At least we got to eat lots of Boudin and Cracklins, and the one tom I killed was a danged good'un, so the trip was worth the hardships.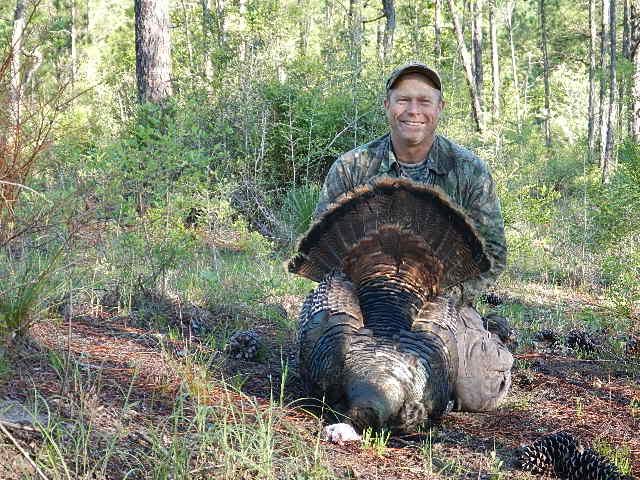 Plus, Jen and I had a wonderful time together. Unfortunately, her mom was terminally ill back in Louisville, so it was time to put her on a plane for home. The evening before she left, we went down to New Orleans and toured the French Quarter. It's a fun place to visit, and right after we got there, Jen suddenly rushes up to this crazy-looking guy that I'd never seen before and says, "Oh, my goodness, I can't believe you're here." I don't watch much TV, so I had no idea that this dude with about 3 teeth in his head was anyone special, but I guess he's got a show on The Animal Planet Station where he catches problem critters by hand...especially turtles, so he's called, "Turtleman." I'm sure y'all know who he is, and I've since seen the show, but at the time I just figured he was related to Jen, since her family is from eastern Kentucky and most all of 'em look like that. :bounce: Come to find out, he and his partner are indeed from the area where Jen's people call home, so maybe they are related? Can you say, "Live Action!?"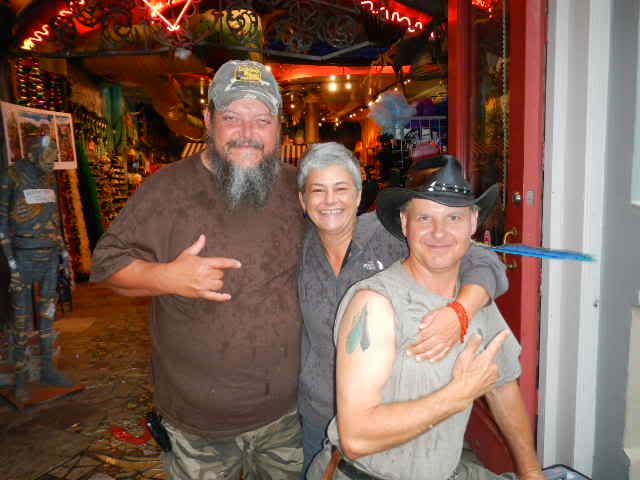 Next stop was New Mexico, and in an oh-so-hard to access spot that is absolutely jamb-packed with gobblers, I shot this tom. It takes a couple hours to hike outa that hellhole of a canyon, but it's always worth the effort!
There were only 6 non-residents drawn to hunt public land in Nevada this spring, and I was one of 'em. This is always a tough hunt, because there aren't very many turkeys to be found in the whole state, but this year I lucked into an absolute gem of a honeyhole, where I heard 5 or 6 toms every day. Plus, I'm pretty sure there wasn't another turkey hunter within 50 miles of me. I played it slow and enjoyed the tranquility, then shot a real arsekicker of a tom on the 3rd day. Here he is: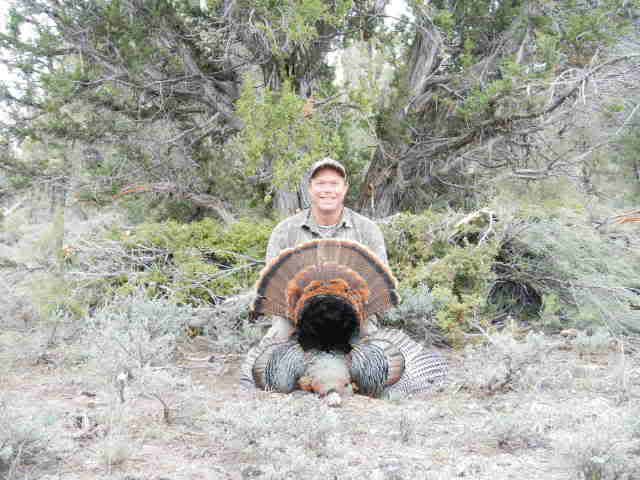 Having 3 more days before the Utah season started, I headed there to do some scouting. When hunting that state I usually like to pursue Merriam's up around Cedar City, but this year they still had lots of snow on that ground, and the highway into it had been destroyed by a landslide last fall. It would take about an 80 mile detour to get where I wanted to go, so I opted instead to stay low and hunt Rio's in another section of National Forest. I'm really glad I made that choice, as I found an area that I could scout by merely sitting in a lounge chair and reading a good book, while watching turkeys on a seperate piece of public land 3/4 of a mile away. I watched them strutting around for 2 days in the private land field to the right edge of this picture, but both days they walked out past the small copse of trees at it upper end at some point, and those trees grew on public property. Guess where I was sitting, come opening morning?
Having 4 more days before I could begin a hunt in Arizona, I then traveled back to New Mexico to try and fill my second tag. It didn't take long before this tom waltzed into my line of fire.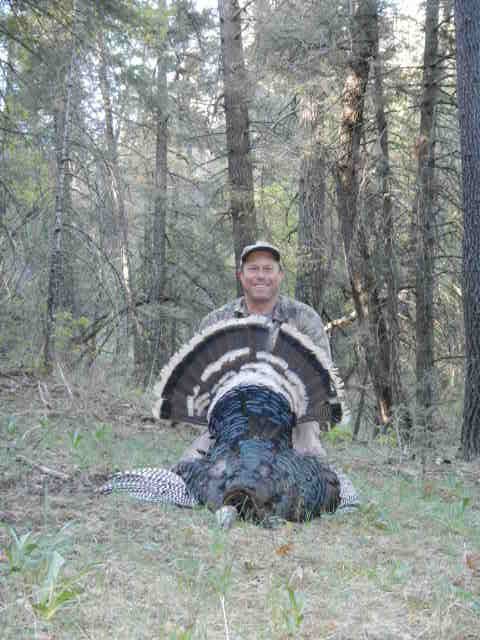 There are lots of incredibly beautiful views in the western states, and here is one of 'em. I found this spot in Utah.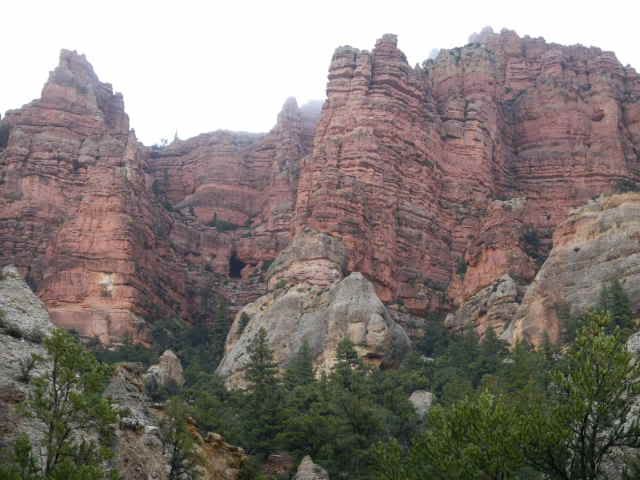 Watching the news last spring, my attention was drawn to a huge fire that had started during the Memorial Day weekend, and was threatening to devour the entire eastern half of the state. Specifically, it seemed to be burning up the exact area where I had hunted the previous spring, and where I'd hoped to return this year. It ended up burning nearly 500,000 acres by the time they got it put out, so I was very nervous about applying for their drawing this year. But, I didn't figure a forest fire could totally wipe out the entire turkey flock of that region, and while that may've been true, it sure wrecked havoc on a beautiful part of the world!
In 2010 you couldn't count the number of toms gobbling along this ridgeline and its surrounding canyons. Guess how many I heard from here in 2012? That's right....NONE!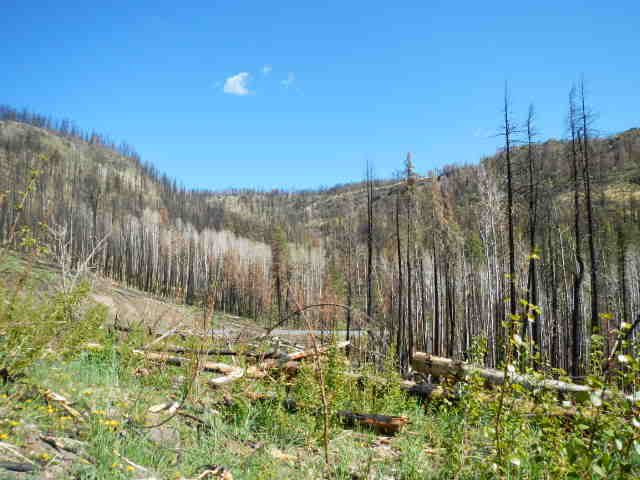 But, I did find turkeys, and I found them in areas just as devastated by the fire as the previous picture. In fact, they were roosting in burned, dead trees...the place looked more like a buzzard roost, until the gobbling started! Hunting in such a scorched area had its own set of difficulties and I struggled to get a handle on it for a few days, but in the end I shot this beautiful gobbler.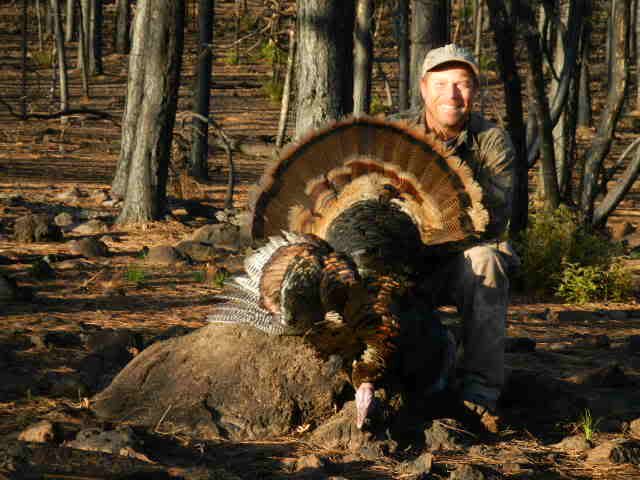 By now I was getting tired of the west and really eager to once again see the emerald green of my beloved midwest, but there was still time to squeeze in a short hunt in another of my favorite states...Kansas. This time I opted for WIHA (Walk-In Hunting Area) lands in Rio Grande country, and it surely did not disappoint. In fact, within 20 minutes of flydown time of Day 1, on ground I had never seen before, I shot this tom.
Then, I called in this tom from a measured 1.4 miles on Day 3 before finally getting the drop on him at 24 yards. He sported spurs of 1-3/8", and when I sat down for this picture, I realized that the plant in my right hand is wild hemp...it was growing EVERYWHERE in that drainage!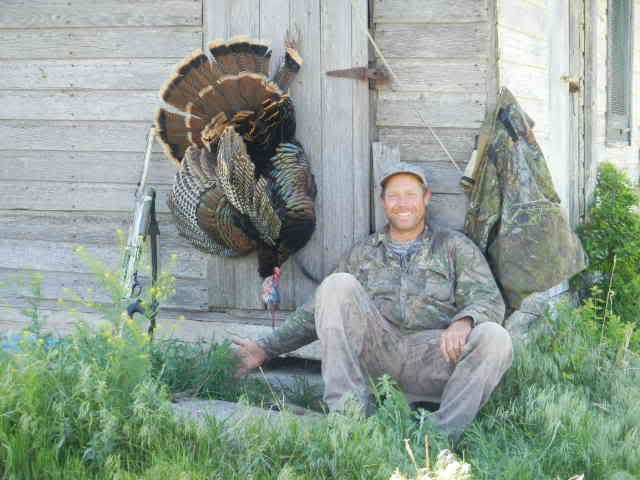 From there, I drove home to Indiana for a couple days of R & R, then on out to Pennsylvania to meet up with some of the best turkey hunters and friends I know. Here are Doug Pickle from Virginia, Craig Morton from Pennsylvania, Bill George from Florida, and myself. You'd think these turkey killers would stack 'em up in the area we hunt, but I would put my money up on the turkeys in that area any day of the week...they are TOUGH!!! We finally managed to kill a few, but it was a battle, and we all came away from it humbled and bloodied in body and spirit!
Very few seasons since 1989 have ended without me hunting in New York, and I have a second "family" up there that is very dear to me. In fact, the youngest member of that crew is now 18, and wants nothing more out of life than to be just like me. Despite such a flaw in judgement as this, my little buddy Trevor Bays is one helluva turkey hunter already, and I'm very proud of his numerous accomplishments along those lines. He's not gonna be like me...he's likely gonna far surpass anything I've ever accomplished in the turkey woods, and it was a joy to return "home" and hunt with him after missing the last 3 seasons. This year, we were able to spend the last 7 days of May chasing gobblers together, and on Day 2 I shot this tom that he called up for me...the first bird that I've ever killed where someone else did all the calling.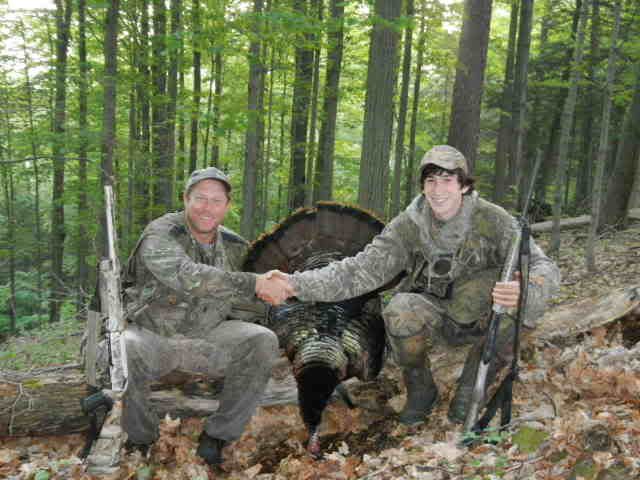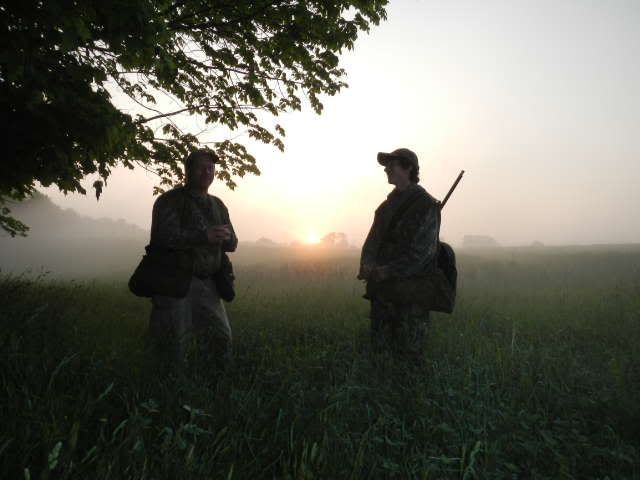 Then, we tried for a double on May 30, but Trevor missed his bird at 20 yards (twice), while I killed this one at about 30 after he shot. I tried to console my young friend by telling him that we'd get revenge the next morning, but it was obvious that he had little faith in such a scenario actually happening, and I knew missing like that really ate at his soul.....I know, because I've done the same thing
MANY
times!!!
Well, my protege still has a bit to learn, including patience, faith, and a thorough understanding of turkey behavior. You see, I KNEW we would be right back in the ballgame the following day, and I had total faith that we'd be bringing that tom home in an igloo coffin!
Sure enough, we saw the tom strutting around in a narrow hay field right before dusk, so the next morning we set up in a tall grass strip bordering its edge. Long before dawn broke I had already heard him drumming in the treeline in front of us, and when I pointed out the sound, Trevor heard it, too. That tom never gobbled a single time, but he drummed nearly continually, and when he flew down and landed in the hay, his feet touched down 40 yards away. Five minutes later he had strutted 11 yards closer to my soft perts and clucks (and 3 DSD hen dekes), where Trevor ended his life
and
the season in grand style!
So ends another turkey season. In 59 days, I called 52 toms "into camp," shot 13 myself, and had 6 more kills by other folks. I can't wait to do it all again next spring, and am already planning the itinerary...come on, SPRING!!!