Here we go again...time for my annual rundown on where I hunted, and some pictures of a few turkeys that got in the way. Unfortunately, (as some of you already know), this was the first time since about 1986 that I didn't spend the entire spring off galavanting around the country and seeing how many days of turkey hunting I could cram into the schedule, so this will be a much shorter version than usual. Please hold the applause.
The reason why I only hunted 4 states? Well, reality came up and bit me on the arse...I bought a house last fall. The good part of that is it sits on 10 acres of land surrounded by public property loaded with deer and turkeys, but the bad side is that it needs a lot of work before I can move in. Hence, my need to get back home earlier than normal. Fortunately, remodeling houses is what I do for a living, and when I'm done with this one, it's gonna be a gem! With that driving thought in mind, I decided to forsake most of the 2013 season, in order to get my new homestead beat into shape so that I can return to my normally insane turkey hunting addiction next spring.
However, there was no keeping me from starting 2013 off in Florida, where I've been hunting since 1988, and guiding a few other folks since 2002. This year saw a great father/son team return to hunt with me, and they brought along their grandson/nephew to hopefully get his first Osceola. I showed up a few days early to scout, so by the time they arrived on Friday I was pretty excited about what I'd been seeing.....
Opening morning found us in a "log cabin" blind draped in spanish moss, with a spread of DSD decoys in front of us (and when I say "spread," I mean it.....a full strutter, a jake, 3 upright hens, 2 feeding hens, and a laying down hen!) and turkeys gobbling in 3 directions. By 8:10 young Mr Austin had his bird down, followed a few minutes later by his Uncle Scott's, and at 8:59 the senior member of the squad pole-axed his bird. We never moved from that initial setup spot, and when Tom pulled the trigger on that final bird, there were already 2 dead ones lying beside the strutter, along with 3 toms, 6 jakes, and 21 hens within gun range! What's more, all 3 birds were certifiable limbhangers, as shown in the following pictures: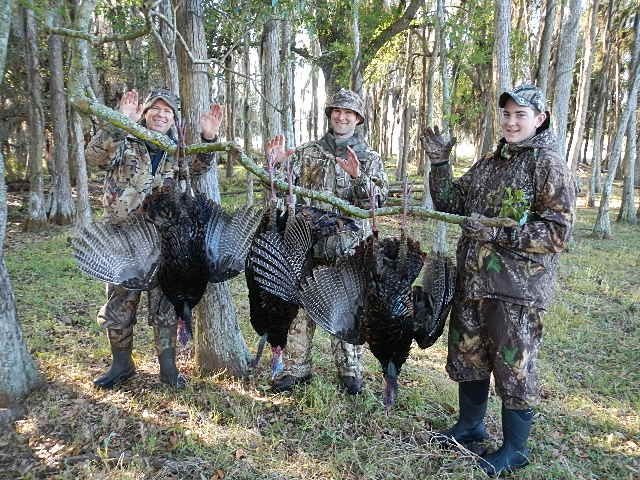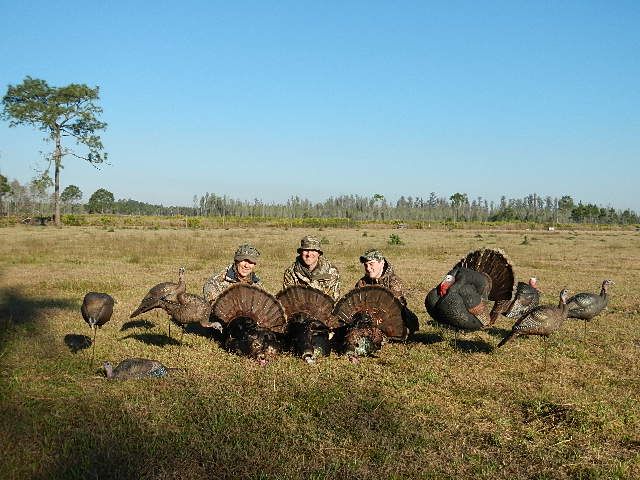 Two days later I took my next client (John) to the very same spot, and would you believe we heard no gobbling, and saw not one feather of a turkey? By 10 a.m. we loaded up and moved about a mile to another little "honey-hole," and by 10:30 we had 10 hens milling around our dekes. I swear, it was nearly impossible to tell real from fake, unless the ones wearing feathers were moving....those new 2013 DSD hens are
amazingly
realistic!!! At 11 a.m. a pair of gobblers ran in to round up as many ladies as they could, but only one exited the scene, although he was very reluctant to go. Finally had to shoo him away. Here's John's bird: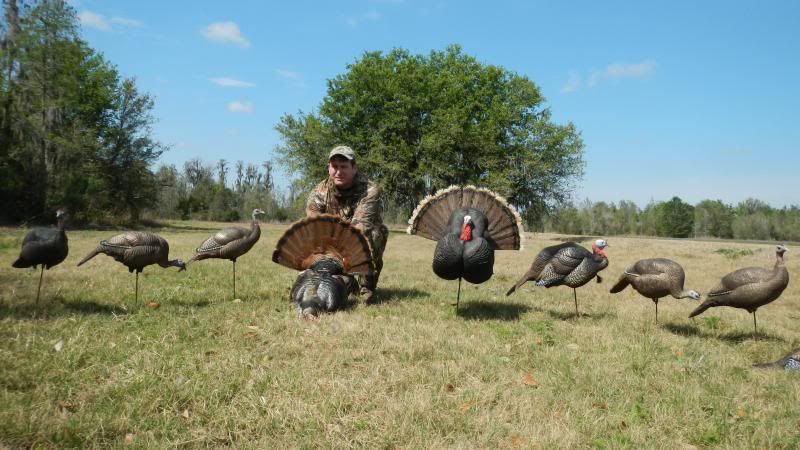 That was it for clients. We could've easily done a few more gobblers on my private properties this year, but I had a hard time drumming up folks to hunt. And so, it was off to the public land for me, where I shot 2 really nice toms. I only got pictures of one though, and here he is:
A huge part of the Florida experience is camp life, and I think we have the best one going. Most of these folks have been getting together for over 20 years, and some a heckuva lot longer than that! They are all like family to me, so here are a few shots from a typical day:
Well, it was then time to leave for home. Believe me, that was a very strange feeling, but I had a couple of Illinois tags burning a hole in my pocket, and in late April I headed over there to the Shawnee National Forest. I spent the first 3 days hunting with the editor of my first book (due out in a few weeks from now, and titled, "Turkey Tails and Tales From Across the USA"), then once the weather improved and it quit raining, I shot a couple of really nice toms. Here they are: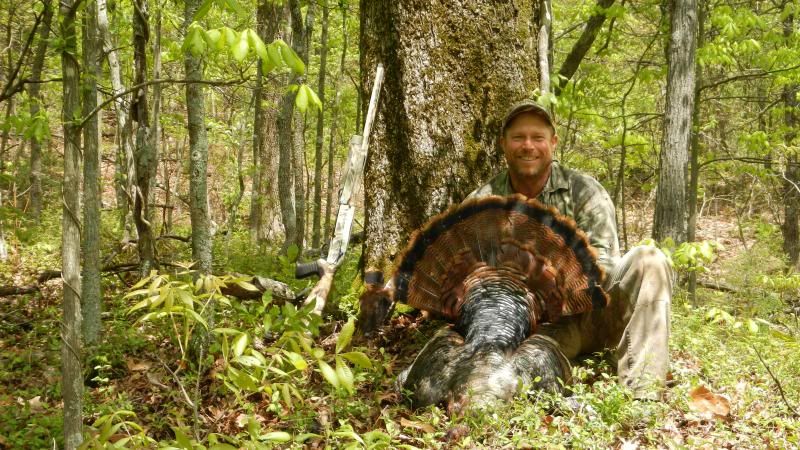 Back home again, and this next bird is very special to me. He ain't much to look at (check out his tail), and he surely wasn't one for the books (3/4" spurs), but I killed him 300 yards from my very own house, and that made all the difference! It sure felt good walking out my own front door to go hunting, and it felt
really
good carrying him back slung across my shoulder! Please excuse the lack of camo, but I was hustling to get to work (can't really say that I've ever made that claim before, either
).
Finally, this past week I made what's becoming an annual pilgrimmage to Pennsylvania. One of the Florida gang (Bill George) has family up there, and we stay in their "camp"...a beautiful 1800's-era home. Several other of my Florida family come up too, and we have a large time of it while hunting the most evil turkeys that I've ever known on surrounding public lands. In fact, there was a legendary gobbler in those parts whom several of the best turkey hunters I know had failed to kill for the last 3 years. I'd even heard one of two of them say he couldn't be called to the gun. This devil of a bird lived in a small swamp at the edge of a bulldozed pile of old logs, and would gobble from near there any time of day...hence, he became known as "Stumpy." I never hunted him before this year, and always let my turkey hunting guru's try to take his scalp while I hunted elsewhere, but finally, I was invited to try my hand at this old warhorse. In fact, Doug and Craig even video'd The Stump'ster walking around another camp, and they proclaimed his spurs to be "at least" 1-1/2 inches long.
Well, it took me two days, and an evening hunt as well, but I can vouch that Stumpy is indeed callable...
if
you use the right calls! He never gobbled, but he drummed a lot, and I drummed even more. That's why he rode back to camp in my cooler (or, maybe it was Bill's daughter Belinda, who tagged along on that hunt and beforehand claimed to be my "good luck charm." Maybe she's right. And Craig, try as I might, I could only get my tape to read 1-7/16 inches on each of those spurs.
Doug and I then teamed up on another tough old rascal, and I (un)intentionally bird-dogged him right into Doug's lap. That's my story, and I'm sticking to it.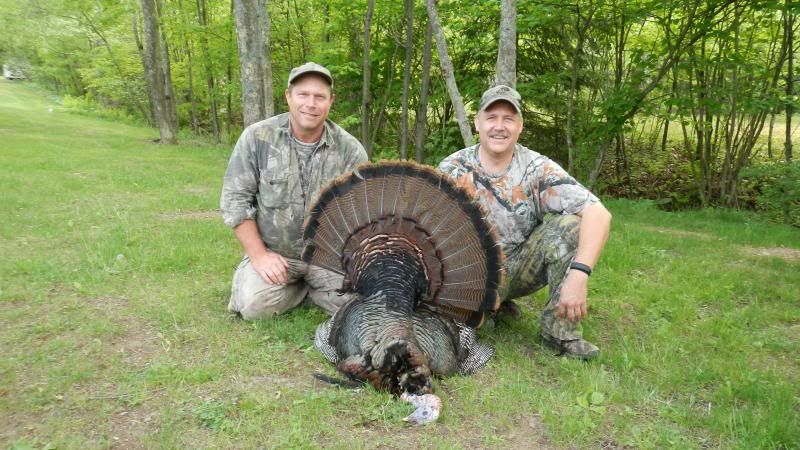 On the final day of my season, I spent 5.5 hours of hunting time close enough to hear 3 toms drumming continually, but when I finally succeeded in calling the hens down to me, the gobblers passed by at around 40 yards. I like my turkeys at 25, so I let 'em pass without firing a shot, and I don't regret that one bit. Afterall, they'll probably still be around next year, and by then they might be wearing spurs to rival those of their great-great-great grandpappy, "Stumpy."