Well we had a great trip to southeastern Minnesota. The area was hit with a pretty significant May snow storm on Wednesday-Friday, with some locations receiving up to 18" of snow. Our hunting area got mostly rain and sleet, with only around 6" of snow accumulation. I was going to meet two good friends of mine for the hunt (one driving from northern MN, the other from South Dakota) and would be the first one into town that afternoon. We hunted Saturday through Monday and a day by day account of our hunt follows below, I apologize in advance for the length but half the fun of the hunt is telling the story. If you don't want to read everything, here's the cliff notes version: the weather cooperated, birds were very active and we filled out with 3 nice gobblers in 2.5 days.
Friday
It had been snowing in southeastern MN for a day and a half by Friday morning and there was a winter weather advisory for our area until noon. I left the twin cities late morning with the idea of getting down there by early afternoon and doing a little "armed reconnaissance" of a public hunting area where we've had success in the past before Jack and Matt got into town that evening. There was a steady rain/sleet mix the entire way down with temps hovering around freezing. I arrived at one of our hunting areas at 1:30 in the afternoon, pulled on my snow camo (causing me to check my phone to confirm it really WAS May 3rd), and headed off into the woods in the sleet and rain. By 4:30 I had covered most of the area and had neither seen or heard a bird, although tracks were plentiful. I was soaking wet and cold, but in good spirits. There were birds around and the woods were beautiful with the snow. I headed over to the motel to check in and dry out. On the way I pulled into farm#1, a property we had permission to hunt and glassed a half dozen birds feeding in a field.
The bad news.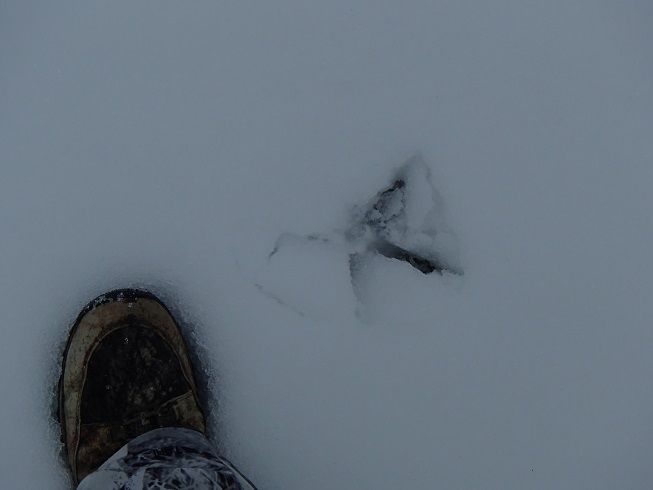 The good news.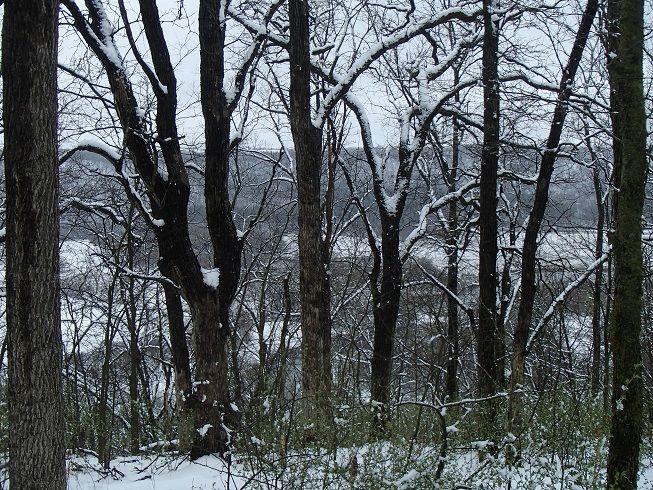 At least the woods are beautiful.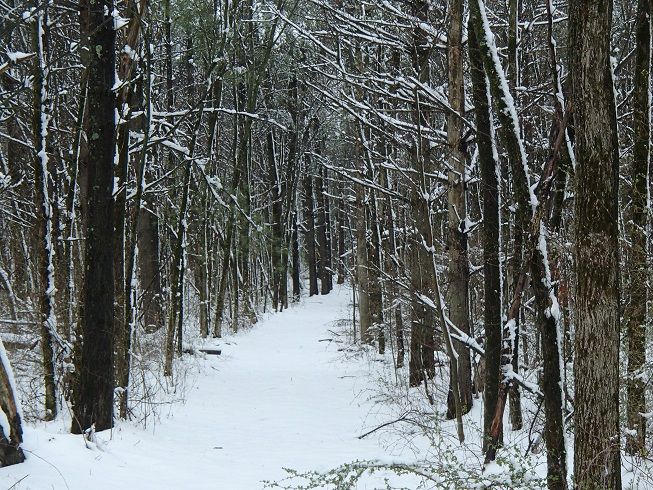 Matt arrived at the motel a little after 6:00 (Jack had a late meeting in Rapid City and wouldn't be in till 1-2 AM) and I helped him unpack and settle in. We made a couple sandwiches for dinner and talked about our game plan for the weekend. At 7:00 we headed out to farm#2, a second property we had permission to hunt (and had hunted in the past) to see if we could roost some birds. It was still raining and sleeting a bit but we were optimistic anyways. On our walk in to a listening point we busted a jake out of a field, and got one bird roosted back in a draw to gobble twice. We headed back to the motel to have a few beverages and watch the Wild game while we waited for Jack. He showed up about 1:00, so we got him unloaded and settled in, then made plans for the morning. They were calling for rain all day on Saturday, clearing on Sunday, and Monday looked pretty nice. Low winds were forecasted for all three days with high temps in the low to mid 60's. Jack had brought a pop-up blind along with him and we decided to set it up in a ridge-top field at farm#1 where the landowner had been seeing a pair of gobblers recently. All three of us would cram in to stay out of the rain. We set our alarms and got to bed a little before 2:00.
Saturday
I was awakened on Saturday by the ringing of my alarm at 4:00 AM, and the (slightly) less loud pounding of rain outside. It was absolutely pouring and I could see waves of water washing across the parking lot. We shrugged our shoulders, got up, and started to get ready. By 4:15 the rain had slowed considerably. When we climbed into the truck at 4:45 it had stopped completely and would not return for the rest of the trip. Temps had risen into the low 40's overnight as well, and that in combination with the rain had really knocked down the snow from the previous day. The valley bottoms were mostly clear, although the woods and ridge tops still had a few inches of wet sloppy snow and slush remaining. We arrived at farm#1 at 5:00AM, grabbed our gear and headed for the ridge top field. There was no road to the ridge top, so we were forced to climb up the side of the ridge through the woods carrying blinds, chairs and decoys. It was a tall ridge, a steep slope, and the snow made footing a bit interesting. After 30 minutes we had made it to the field and decided to set up at the north end. We got the blind set up, popped out a couple of decoys and clambered in. We had been hearing birds gobbling for 10 minutes or so by this time and sat waiting for flydown. Birds were responsive to our calls, but most seemed to be off the property to the north, and heading down the valley away from us. We continued to call and hear gobbles for the next hour or so, but nothing was very close. Around 7:30 two birds gobbled at the far end of the ridge to a string of jake yelps. A few more jake yelps and they gobbled again. After a couple minutes they were standing in the field 400 yards away looking at our decoys. They took their time gobbling and strutting down the field, meandering back and forth. Eventually they slipped off the top of the field to the left and down the side of the ridge, still gobbling and walking in our direction. Suddenly the gobbling stopped and they came running back up onto the field and out the way they had come. Something had spooked them on the ridge side, but we never saw what it was. We sat in the blind until 8:30, and then packed up and headed into town to grab some breakfast.
After breakfast we headed over to farm#2. By this point it was almost 60 degrees and the sun was starting to peek out. We pulled in a little before 11:00 and decided to split up and cover more ground. Matt and I went up the western ridge while Jack took the eastern. Matt and I were making for a small meadow on top of the western ridge that makes a perfect strut zone in the middle of the woods. We slowly worked our way up the 4 wheeler trail to the ridge top, stopping and calling every couple of hundred yards. It took about 30 minutes to reach the meadow, and we settled in to a couple of comfortable trees to sit and cold call for a bit. Before long we were hearing faint gobbles from the eastern ridge in the general area of where Jack should have been. The bird gobbled 5-10 times and we figured Jack was working him. Sure enough, we heard a gunshot from the east ridge about 10 minutes later, and I got a text message from Jack confirming the bird was down. Interestingly, we had heard a bird gobble 3 or 4 times after the gunshot, but jack never heard him. Matt and I worked slowly along the rest of the west ridge calling as we went, but nobody was home. A couple hours later we arrived back at the truck where Jack was waiting with his bird chatting with the landowner. It was a nice bird with a 10.5" beard, 1 1/8" spurs and probably 23-24 lbs.
Jack with his gobbler.
By this time it was going on 3:00 PM and we decided to head over to the public land I had briefly hunted on Friday to see if we could get anything going. It's a good place to get out and cover ground looking for a bird. By 5:00 we had covered most of the property and aside from bumping a hen hadn't seen or heard any birds. We decided to walk the final ridge top and then head into town for some dinner. About halfway along the ridge we heard a distant gobble. The bird was off the property down in a valley below the ridge we were walking. We moved along the property line and got even with the bird and tried him again. He gobbled again down in the valley, probably 500 yards or so away. There was a logging road running down from the ridge top to the valley where the bird was, but it was a long way and I really didn't think we had much of a shot to pull him up to us. He was, however, the only game in town so we set up where the logging road coming up from the valley met the trail along the ridge top. I put a hen decoy out at the T and we all took a seat at a different tree. The bird was not very enthusiastic at first, and would only respond to very excited cutting, but eventually he started working his way towards us. After 10-15 minutes he had made his way up the logging road to within 100 yards and it was starting to look like this might pay off after all. Pretty soon after that I could hear him spitting and drumming behind the bushes to my left front. I'm searching the area with my eyes waiting for him to step into view when all of a sudden a turkey head pops into view. Unfortunately it was mostly blue and gray and the hen walks by me at 5 yards clucking and purring as she heads straight for the decoy at the T.
She walked right up to the decoy, looked at it a bit, and starting yelping and clucking. That really got the old boy fired up. Now he was gobbling along with spitting and drumming and we could hear his footsteps in the leaves. I would guess he was no more than 30 yards away, but couldn't see him due to the thick undergrowth. We heard him spit and drum for another 10 minutes or so as he slowly circled our position to the left. I'm not sure if he ever came into view because that hen was still standing there 30 feet away so we couldn't shift around to follow him. Eventually she wandered off and the spitting and drumming faded. He would gobble when I cut at him, but it was pretty clear he wasn't coming back. When I saw that hen come waltzing right up the logging road and then stand at the T calling I thought it was only a matter of time before he followed. Instead, he slid off the road and circled us in the thick underbrush. Oh well, you can't win them all, and it was a great encounter regardless. We were still shaking 20 minutes later when we got back to the truck.
We split up to roost birds that evening, Jack and I went to farm#1 and Matt headed over to farm#2. Birds were tearing it up at farm#1, especially once a pack of coyotes started howling. Matt heard a couple birds as well at farm#2.
Sunday
Up at 4 AM again and we decided to head to farm #1, although we would split up and go after separate groups of birds this morning to up our odds. Matt would go after a couple birds roosted in a draw on the eastern side of the farm, while Jack and I would haul the blind up to the ridge top field and try for the two birds from the previous day again. The climb up the ridge through the woods was much easier now that the snow had melted off, and we set the blind up on the crest in the middle of the field with a hen decoy on the north and south sides.
Birds started gobbling at first light, and with the clear windless morning we could hear for miles from the ridge top. We could hear a dozen or so different birds sounding off, most over near the eastern side of the farm, but a couple off the edge of the ridge-top field we were set up in. We waited until after flydown to start calling, and then started excited yelping and cutting every couple of minutes with a variety of calls. After a half hour I saw a hen poke her head up over the crest of the field a couple hundred yards away and look in our direction.
I yelped at her and she started angling towards the blind on a course that would take her below the crest on the side of the field and out of view. After a few minutes I yelped a couple times on a slate and she answered from below the field to the right of the blind. I yelped back at her again and I could see her climbing into the field and moving towards us out the side window of the blind. I watched her as she was making her way towards the decoy in front of the blind. I turned my head back towards the front of the blind to tell Jack what she was doing and there was a strutter 150 yards out in the field directly in front of us.
The strutter would take a step In our direction, stop and strut, then take another step. By this time the hen had made it to the decoy and stood right next to it, feeding, preening, and trying to make small talk with the new but strangely unresponsive girl in the neighborhood. From where Jack was sitting he couldn't see either the strutter or the hen, but I was whispering a play by play of what was going on and he was doing a little clucking and purring on a slate to keep the hen interested. The strutter spent the next 15 minutes meandering his way towards us in a zig zag pattern across the field. He would take a step, strut, and take another step. He only gobbled twice, and they were very quiet muffled sounding gobbles, so we assumed he was a subordinate bird trying to avoid drawing the attention of other toms in the area. By the time he was in range I was shaking so bad it was hard to draw a bead on him, but I managed to settle down enough and shot him at 35 yards. He was another older bird, with curved spurs just over 1", but small for that area of MN, probably only 19-20 lbs. He had plenty of fat on him when I dressed him, he just had a small frame. Regardless, he had put on quite a show (for me anyways, jack couldn't see a thing and had to be content with the play by play), on a beautiful morning in a beautiful spot. This was only the second bird I had ever taken from a blind, we typically only use them in inclement weather preferring to stay more mobile, but the steep slopes on the edge of the field made setting up in the wood edge impractical and a blind was really the only way to hunt this field.
We packed up and climbed back down the ridge to wait for Matt by the truck. There was a bird tearing it up on his ridge and we were expecting to hear a gunshot any minute but it never happened. He came walking out of the valley about an hour later and we headed into town for some breakfast. We were in great spirits. It had been a beautiful morning, birds had been gobbling, and we had two on the ground in as many days.
My field top bird.
After breakfast we headed back to the public land where the drummer had given us the slip the evening before. Sure enough, we struck him after about 20 minutes of walking and calling, but he was on the opposite ridge from us and wasn't going to budge. It took about 15 minutes to walk back along our ridge, and cross over to his and by that time he had gone silent and we never heard from him again. We did some more walking and calling, and set up for 45 minutes or so in the general area he had been gobbling from but never heard another bird. A little after noon we decided to head back over to farm#1 and stake out a pasture in the back of the valley where we had seen birds off and on the previous couple of days. By this time all of the snow from Friday was long gone, the weather was beautiful (it was actually starting to get a little too warm, but we weren't complaining), and a couple hours sitting and napping sounded good to all of us.
We made it back into the pasture without incident and we put Matt on the field edge with Jack and I in the cedars 15 yards or so behind him. It was very comfortable out there and I think we all dozed off a bit. At one point we called a hen into the meadow, she walked past Jack and I at 10 yards, clucking and purring and fed around in the pasture in front of Matt for 20 minutes or so before making her way off up the valley.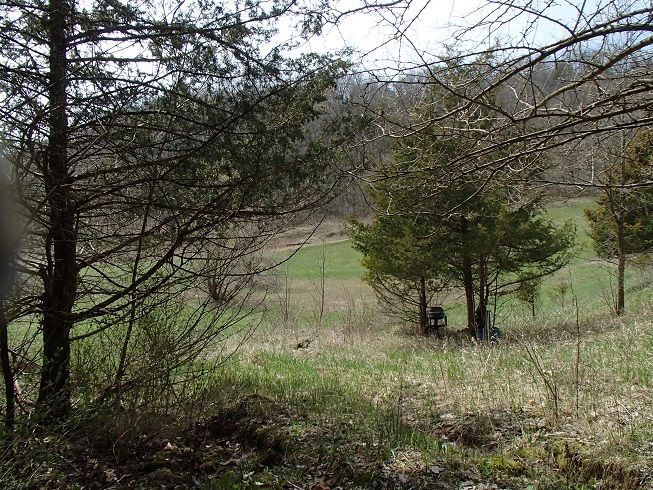 The pasture. Matt is at the cedar to the right of the chair.
Checking to make sure Jack is still awake.
Less than 24 hours after being covered in 6" of snow...
We packed up a little after 4:00 and headed back over to the public land for one more shot at the drummer. We got a distant gobble about 5:00 but nothing came of it, and since we were meeting friends for dinner in town at 6:00 we packed up for the day. Dinner (and drinks) ran late as they tend to do with old friends and we never made it out to roost birds that evening, but by this point we had a pretty good idea of what they were doing. Jack had a long drive back to Rapid City in the morning, so he decided he was going to sleep in so it would be Matt and I hunting the final morning.
Monday
Matt and I were up again at 4:00, and headed back to farm#1 as we had heard at least a half dozen birds in the area the previous day. When we got out of the truck at quarter to five a bird was gobbling his head off to an owl hooting in the pitch dark. Taking that as a good sign we made the 30 minute hike up to the ridge top to set up as close as we could to a group of gobbling birds. Unfortunately at fly down they went off the other side of the ridge, and walked off gobbling down the neighboring valley. We spent the rest of the morning slowly moving around and calling and got a few courtesy gobbles but not much came of it. We spotted the two gobblers from Saturday morning in the ridge top field (so the bird I'd killed the previous morning had not been one of them as we thought), but they busted us from 500 yards away trying to make a move on them. We set up in a strut zone where we had seen a gobbler the previous afternoon and had a couple hens come through and check us out, but no more gobbles. We headed back to the hotel to pack up and check out at 9:00. We had just missed Jack, who was on his way back to Rapid City, but I would see him out there in a few days when we would be chasing merriams together.
Matt and I packed up and decided to give farm#2 one more try. I had to head out a little after 1:00, so if we weren't successful here, Matt would hunt out the rest of the day chasing the drummer on the public land. As usual we had a last minute man in our group, and for once it wasn't me. We got to farm #2 a little before 11:00 and decided to head up the 4 wheeler trail to the small field at the top of the eastern ridge where Jack had killed his bird on Saturday. We slowly made our way up the trail, stopping to call a few times but mostly just listening. After a half hour we were standing at the end of the wheeler trail, just below the field and the crest of the ridge. I called, and we heard a gobble in response. It was difficult to tell which direction the gobble had come from as the sound was bouncing all around in the draw the wheeler trail ran up, and while it wasn't real close, he didn't sound too far away either. We couldn't get him to gobble again so we decided to sit down there and wait a few minutes. After 15 minutes of waiting with a couple rounds of calling we hadn't heard anything more, so we moved up the slope to the edge of the field and began to walk around the perimeter. There were quite a few dry leaves on the ground making it impossible to walk silently, so we went extra slow trying to sound like a deer or turkey feeding along the edge. As we neared the far corner of the field I heard Matt's footsteps stop, so I looked behind me to see him urgently beckoning me to come back to him. I eased back towards him and whispered what was the matter? Had he seen something? "Didn't you hear that"? he whispered, "One just gobbled RIGHT THERE" and pointed just over the edge of the ridge at the corner of the field. I hadn't heard anything, and thought he must be hearing things, but I ran out a few yelps and clucks anyways. The gobble cut off my last cluck and sent me scrambling back 10 yards along the field edge, he had sounded less than 40 yards away.
We were just about to slide into the woods when I thought better of it and quickly slapped a hen decoy down 5 yards into the field, then we slid down into the woods 10 yards from the edge. We sat up next to some deadfall. There was a deer trail that ran the length of the ridge at our 10 o'clock, and the decoy in the field was 20 yards away at our 2 o'clock. I sat just behind and to the left of Matt close enough so we could easily whisper back and forth. Matt had a clear shooting lane to the deer trail and another to the decoy, but there was a tree 2 feet directly in front of him so he could not swing between lanes without picking his gun up and around it. Not an ideal set up but we didn't have time to look for a better one.
I yelped and clucked softly and he gobbled a few seconds later, he was just over the crest of the hill at the corner of the field, maybe 50 yards away. He gobbled pretty consistently for the next 3-4 minutes, but didn't seem to be too excited by my softer calling. I started to ramp it up a bit, clucking and yelping a little more urgently and building to loud cutting and aggressive yelping as he warmed up to it. A couple of minutes of this had him pretty worked up and we could hear him spitting and drumming back and forth along the field edge between our 10 o'clock and 2 o'clock, maybe 40 yards away but still out of sight. Now that He was all riled up I just shut down on him completely. He gobbled 5 or 6 times on his own during the next minute or two, but still hadn't broken from the edge of the woods. I reached down and started scratching the leaves, and he immediately gobbled at the sound. I spent the next minute scratching leaves and doing some soft purring and clucking. We began to hear his footsteps and drumming move towards our 10 o'clock. I whispered to Matt to move his gun to the deer trail and get ready, he was coming. The footsteps started to cross our front and I was about to whisper to Matt to shift his gun to the decoy when I saw him step out on the field edge 25 yards away. Matt was stuck with his gun on the wrong side of the tree and couldn't see the bird without turning his head. "Don't move! He's right there on the field edge!", I whispered. "Wait until he's looking at the decoy, I'll let you know when". The bird stood at the edge of the woods for a few seconds looking around, then spotted the decoy in the field. He immediately turned towards it and popped into strut. I could see him shake when he drummed and could feel it in my chest. The bird came out of strut, took a few steps towards the decoy and turned his back to us. "Ok, shift your gun over now, he's not looking". Matt got his gun around the tree and his head back down on the stock smoothly and quietly before the bird turned back around. He took a few more steps towards the decoy and popped into strut again. As he came out of strut for the second time I began to whisper "Ok, whenever you're rea.." and the little 20 gauge roared (well squeaked at least) and the bird went down in a heap. It was all high fives and smiles after that.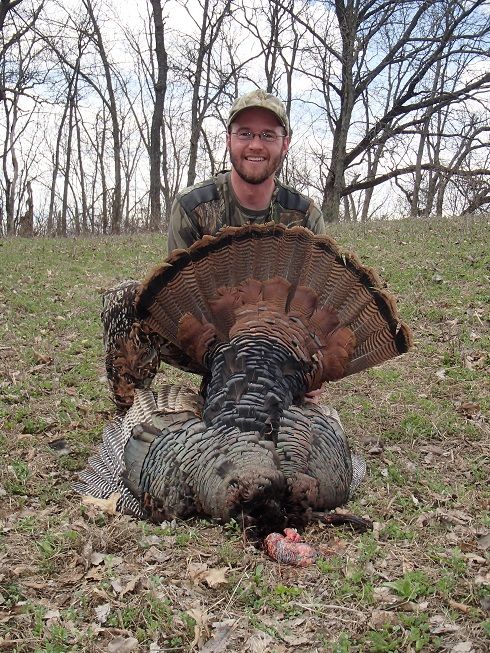 Matt with his last minute Gobbler.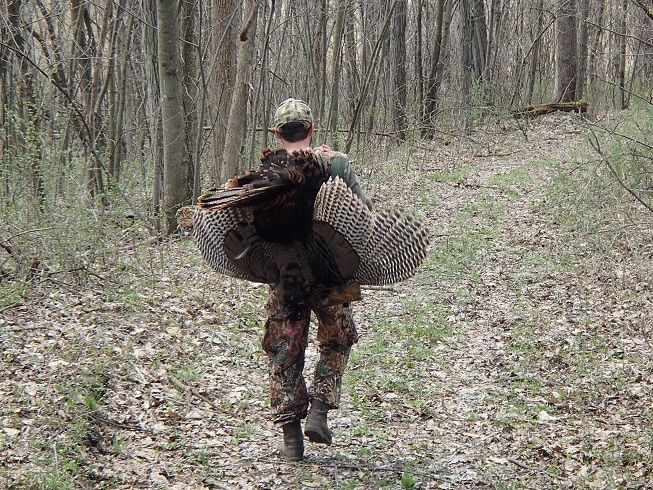 He was a dandy of a bird, the best of the trip. 11" beard and 1.25" spurs. Heavy too, 24-25 lbs. Matt was thrilled, this was his first turkey since high school, and I was just as excited about the show he gave us. We spent some time taking a few pictures on the ridge top, then headed back down the logging trail to the truck. Chatted with the landowner a bit, packed up and headed for home. It was a little before 1:00 when I hit the road.
We had a great trip in SE MN. The weather was excellent, birds cooperated, and we all got a good show. If anyone has not hunted yet this year these last four weeks of OTC tag sales should be pretty good!