This morning's turkey hunting story, and a rocket.
Silence at First Light
I was in the woods at 4:50, and at my listening spot at 5:05. On Saturday I saw a gobbler on the roost here, with 3 hens and a jake in the field right below him. He flew down at 6:05, but went the other way and at 6:20 someone shot at him. I went over there and talked to the guy, and he said he missed.
Turkey Commotion
At 6:05 this morning, 2 hens happened to be right above me, and when they noticed me they started alarm putts on the roost. They flew out. Nothing gobbled. Since it's a great spot I set up and as soon as I did I could hear some kind of turkey commotion across the field. I tried calling, but they ignored me.
I sat there until 9:00, and then got up to go investigate the area where I heard the commotion. It sounded like a couple of jakes fighting. When I got there, the area was all scratched up. I peaked over the hill and saw a turkey walking toward a field.
Encounter with a Jake
I set up to call, spent about an hour, but no luck. So, I want over to that field and saw a gobbler standing at the edge of the field about 75 yards away. He didn't see me, and headed into the field. I lost track of him behind a big multiflora rose bush, which hid me pretty well too. Finally I saw him out in the field and I began calling. He fanned out, and I could see he was a jake, but he never called back. He did respond by coming a little toward me.
Pretty soon I could see another turkey in the field; that one turned out to be a hen. The jake wouldn't leave here. I kind of wanted to leave, but if I did they'd see me, so I stayed put. Finally, they went into the woods, and I escaped.
Encounter with a Rocket
Since it was near noon, I went back to the last spot because I found something there I had never seen before. Lying right in the middle of all the turkey scratchings was a rocket. Have you ever found a rocket? Yes, it was a rocket. It was over 3 feet long, very light weight, painted red and white, with four fins on the back. The fins section was broken off and had some kind of internal plumbing in it (maybe a small rocket engine), but still there on the ground. The tip was bullet shaped, and I could pull away from the rest of the long tube. It seemed hollow.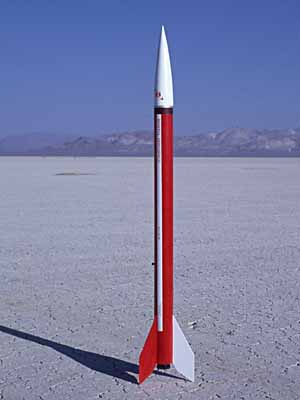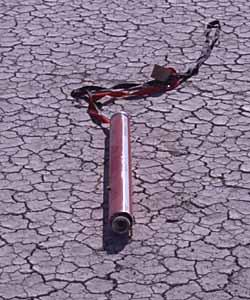 It also had a long nylon strap, about 1" wide. Attached to that were some smaller strings. It looks like a parachute had probably been attached. I think this is some kind of meteorological rocket. I brought it home for further investigation.
It has the letters ALF-VB-08 on the body tube, and I could make out the letters "...tol Aero...," which led me to conclude it was made by Bristol Aerospace, of Winnepeg, Manitoba. The nosecone section had the letters MPE on it. Internet research leads me to believe the rocket is known as a Black Brant. There must have been some kind of meteorological device attached to it, but I don't think that's a part of it now.
I took some photos with my iPhone, but the pictures here are not the rocket I found. I found these on the Internet, and they're a pretty good representation of what I found and it was easier to post these than to upload my pictures. And it's clearer in these pictures what you're looking at.
Steve.